Komunitas blogger Makassar Angingmammiri telah berumur 4 (empat) tahun. Tidak terasa, jika digambarkan dengan profil seorang anak, maka 4 tahun adalah umur di mana seorang anak sudah masuk sekolah. Sudah punya teman banyak, bermain di ruang publik lebih luas dan ramai, dan sudah mengenal dan dikenal di sekolahnya, baik oleh teman sekelas maupun guru-guru di sekolahnya.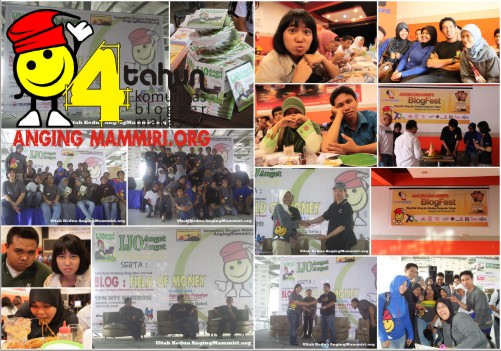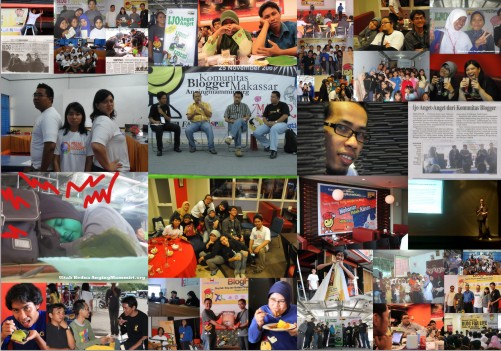 foto-foto dirampok semena-mena dari daeng Ipul
Demikian juga harapan saya untuk komunitas ini. Saya berharap komunitas Angingmammiri ini, bisa makin tetap eksis di dunia online, mengenal dan dikenal oleh berbagai kalangan, dan terus menebarkan manfaat positif bagi masyarakat sekitar.
Saya teringat kembali ke akhir tahun 2004, di mana saya pertama kalinya bertemu dengan teman-teman blogger di Makassar. Saat itu belum ada Angingmammiri. Yang ada hanya Blogfam Kelurahan Makassar. Itupun bertemu karena Maknyak, founder Blogfam, datang ke Makassar.
Usai pertemuan pertama, tidak disangka akan diikuti oleh pertemuan-pertemuan berikutnya. Kopdar demi kopdar dilewati. Tidak sedikit yang saya tuliskan melalui blog ini. Bisa ditemukan di kategori Gathering.
– Makassar BloggerFamily-ers Rendezvous
– Kopdar Blogger Makassar
– Gathering at Pizza Ria Kafe Panakukkang <-- where I met my dear friend Tiza Asternadewi for the very first time.
– Gathering Blogger Makassar di Rumah Sakit (05 November 2005) <-- where I met Ochan for the very first time.
– Harry Potter and the Goblet of Fire <-- kayaknya ini nonton bareng yang pertama kali, dan ketemu Mus pertama kali di sini.
– BlogFam Kelurahan Makassar! <-- di sini, sangat terkesan dengan rambutnya Cikal :D
– Welcome Miya from UK
– Mission Impossible III <-- kopdar pertama yang pake istilah EO :D dan di-EO-kan oleh Mus, dan berhasil gagal hihi.. Soalnya cuma 4 orang pesertanya :D
– Kopdar karaoke: Kopdar Makassar: Karaoke part III <-- dan yang ditulis adalah kopdar karaoke yang ketiga kalinya :D - Kopdar Makassar: Karaoke part IV
– Kafe Baca BIBLIOHOLIC <-- ini dalam rangka open house-nya Kafe Baca Biblioholic yang baru pindahan. - Pelatihan Blog @Makassar <-- pertama kalinya teman-teman blogger Makassar melakukan blogshop alias blogging workshop, atau istilah kerennya pada saat itu pelatihan blog :D ...dan masih banyak lagi :D Saat pelatihan blog pertama kali itu, blogger Makassar sudah punya wadah komunikasi, yaitu mailing list di blogger_makassar@yahoogroups.com. Saat itu juga sudah mulai ngoprek2 untuk membuat blog khusus blogger makassar. Thanks to Sandynata udah nyumbangin domain angingmammiri.org dan dokter Adhi menyumbang untuk biaya hosting, maka tanggal 25 November 2006, Komunitas Blogger Makassar Angingmammiri resmi diluncurkan bersama blog barunya :D
Empat tahun telah berjalan, banyak persahabatan di dalamnya, banyak cerita, banyak pertengkaran, banyak gosip, banyak dilema, problema di dalamnya. Tapi melebihi semua itu, kita tetap bertahan dan semangat untuk meneruskan langkah dan tentunya tidak lupa dengan awal semangat kita membentuk komunitas ini.
Selamat ultah Komunitas Blogger Makassar Angingmammiri yang ke-4. Semoga tetap berjaya dan terus bertahan dan bersemangat hingga bertahun-tahun ke depannya.
Sekali layar terkembang, pantang biduk surut ke pantai!
EWAKO!!