Postingan ini adalah lanjutan dari sini dan sini.
Hari kedua dimulai dengan sesi bersama di Junior Ballroom – Intercontinental Hotel – Kuala Lumpur, mendengarkan Jay Sullivan dan Dan Mills tentang State of the Product. Jay Sullivan bercerita bahwa yang dicari oleh para user adalah choice to use and choose. Sedangkan para developer adalah freedom to build, and to hack. Dan Mills menjelaskan tentang: 1) Firefox has to rock, 2) Be mobile!, dan 3) Enable the user-centered web.
Setelah itu, saya segera ke ruang Orchird & Dahlia untuk mengikuti sesi PR / Communications Training for Mozilla Communication Reps oleh Shannon Prior dari Skills & Community. Sesi ini adalah pengenalan Mozilla PR dan program Mozilla Communication Reps. Lalu diskusi-diskusi tentang bagaimana bekerja dengan efektif dan menyampaikan pesan-pesan tentang misi Mozilla ke seluruh dunia.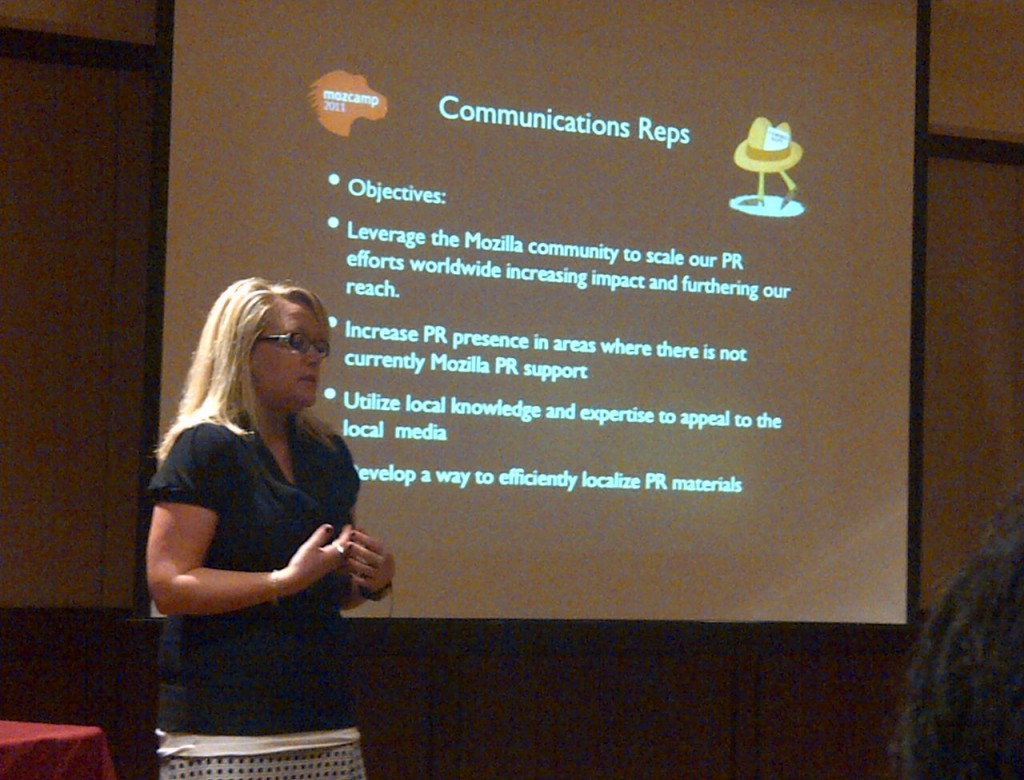 Communication Reps:

Setelah itu, saya ikut kelas Bringing Social Media to the World oleh William Reynolds dari Engagement Team.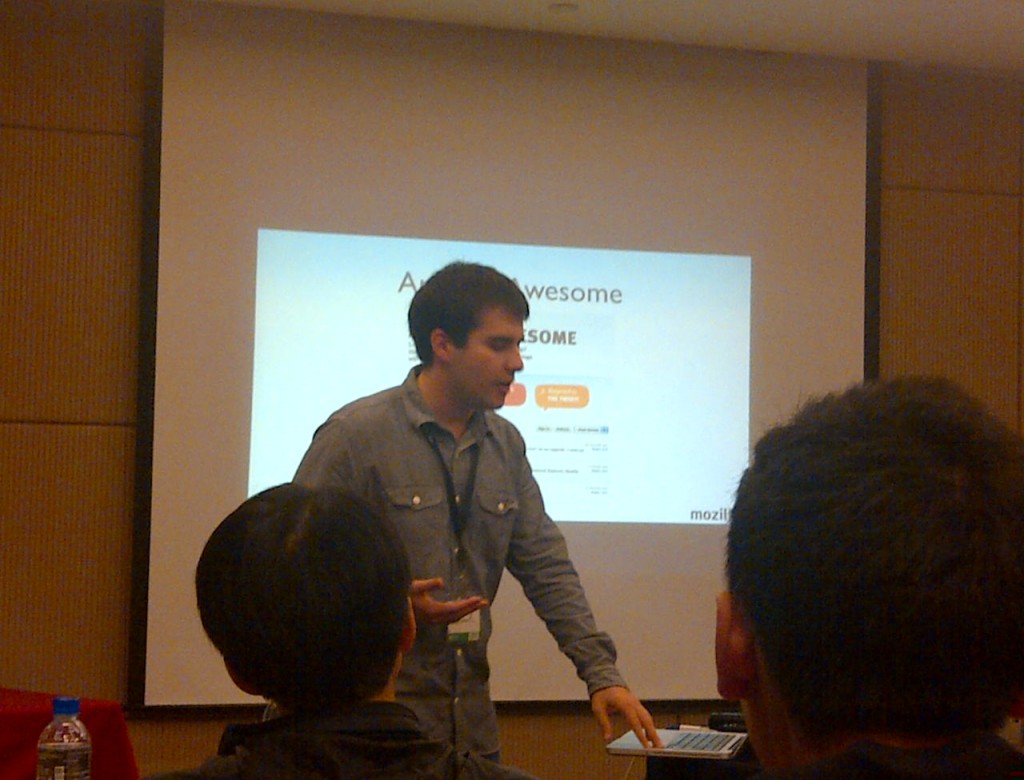 William banyak bercerita tentang bagimana social media menjadi cara yang sangat powerful untuk berinteraksi dengan pengguna Firefox dari belahan dunia mana saja. Lalu dia sharing singkat tentang strategi-strategi social media, bagaimana bertemu dan berinteraksi dengan pengguna Firefox di daerah kita melalui social media, dan masih banyak lagi. Saya sempat memberitahu William bahwa di Indonesia, kita punya Koprol, yaitu social media yang berbasis lokasi, buatan Indonesia, yg kemudian diakusisi oleh Yahoo!. Dan di kelas ini juga, saya kemudian mengetahui bahwa penggunaan social media di berbagai negara itu berbeda-beda adanya.
William juga mengatakan bahwa semua bisa ikut aktif berpartisipasi berinteraksi.
Can you help?
1) Get involved by creating and/or localizing content for Firefox social media followers in your region. 2) Respond to user comments on our Facebook page and on Twitter with Army of Awesome.
Siang hari sebelum makan siang, para peserta kembali berkumpul di Junior Ballroom untuk mengikuti sesi Leader Q & A oleh Mitchell Baker and team. Setiap orang dipersilakan untuk submit pertanyaan di sini. Dan terjadi banyak diskusi-diskusi dan interaksi penuh antara peserta dan tim Mozilla HQ. Keren!!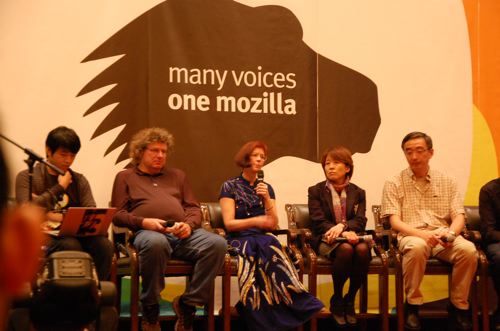 Setelah makan siang, kelas-kelas pun dilanjutkan. Saya memilih untuk masuk ke kelasnya Dave Berz & Micha Degele (Skills & Community), yaitu Motivation: Leadership. Di kelas ini Dave Berz banyak memberikan cara-cara bagaimana seorang team leader dapat memotivasi timnya dengan baik, menyemangati timnya, dan juga sharing several effective concepts in generating influential motivation and participate in your own leadership development.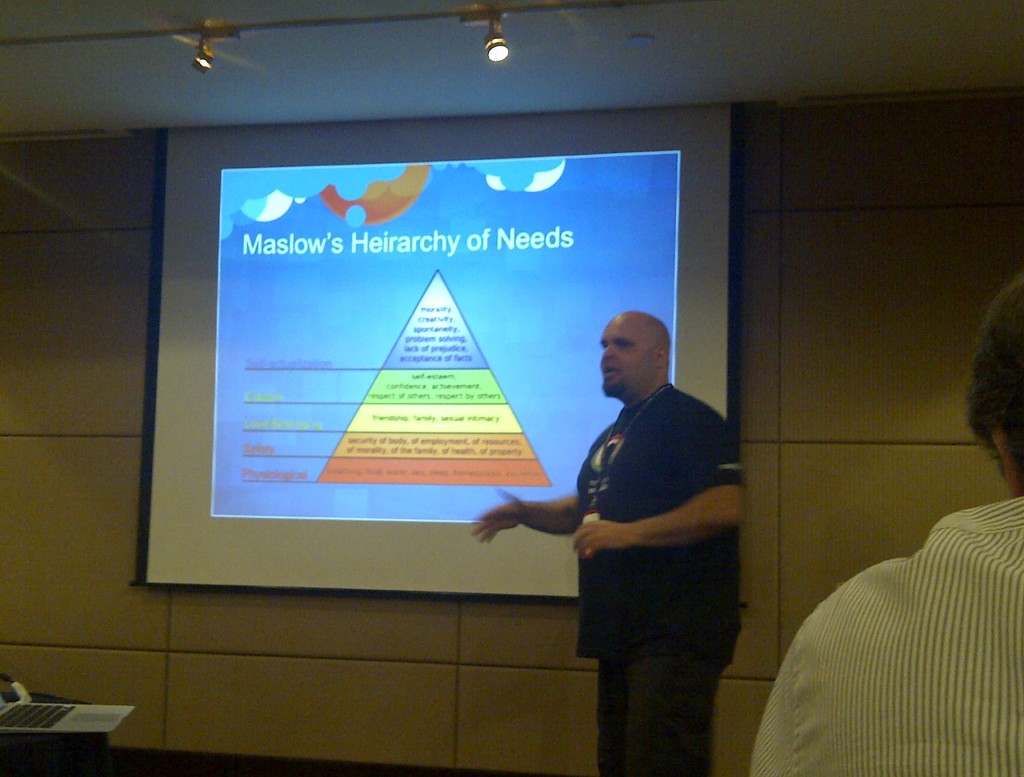 Next, saya kemudian lanjut ke kelas Mozilla Reps Status Update and What's Next!, sementara itu Viking Karwur di waktu yang sama sedang sharing di kelas Build Mascot with Community Power bareng Po-chiang CHAO dan Jack Guo serta Tomoya Asai (Skills Development & Community Growth) di ruangan lain.
Mozilla Reps Status Update dibawakan oleh William Quiviger. Sebelumnya saya sudah pernah bertemu dengan William, di Pesta Blogger 2010 tgl 30 Oktober 2010. Saat itu, bersama dengan Gen Kanai, William sharing tentang Mozilla didampingi oleh Dietrich Ayala dari tim engineer Mozilla, sharing di kelas khusus Mozilla di Pesta Blogger 2010.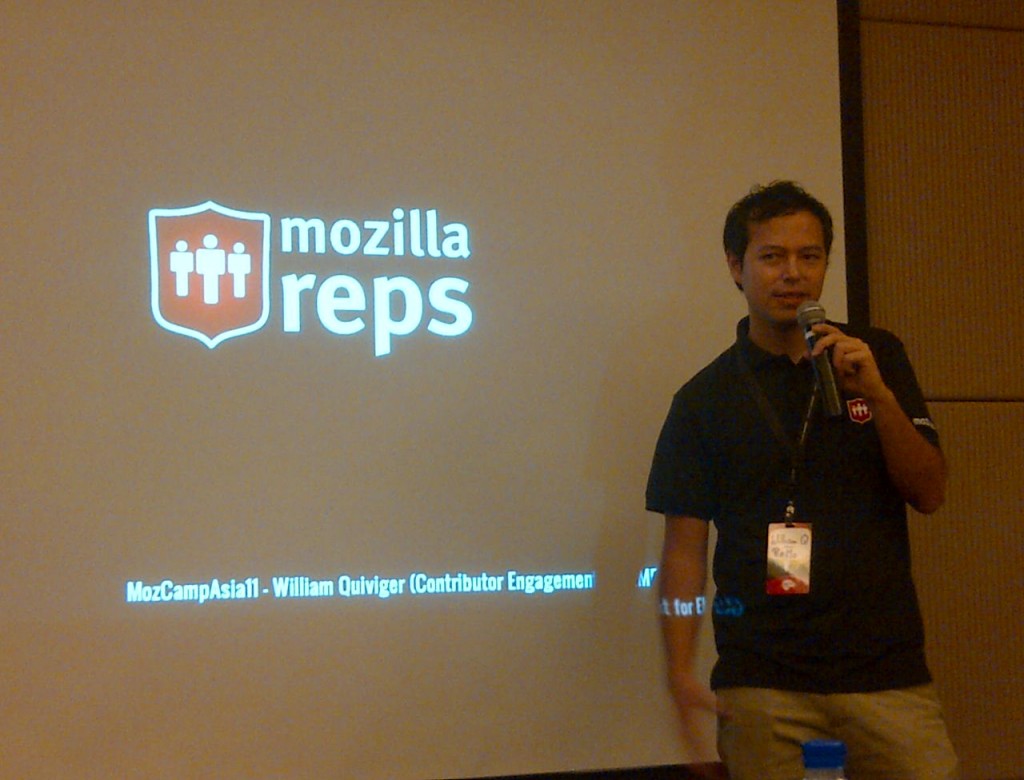 Mozilla Reps adalah kependekan dari Mozilla Representative, merupakan program yang telah di-launch kurang lebih sejak pertengahan tahun 2011. Program ini adalah sebuah project global yang bertujuan untuk mendukung para Mozillian yang ingin mewakili Mozilla di daerahnya, dan mewakili daerahnya di dalam Mozilla sendiri. Mau ikut program MozReps ini, bisa apply di sini.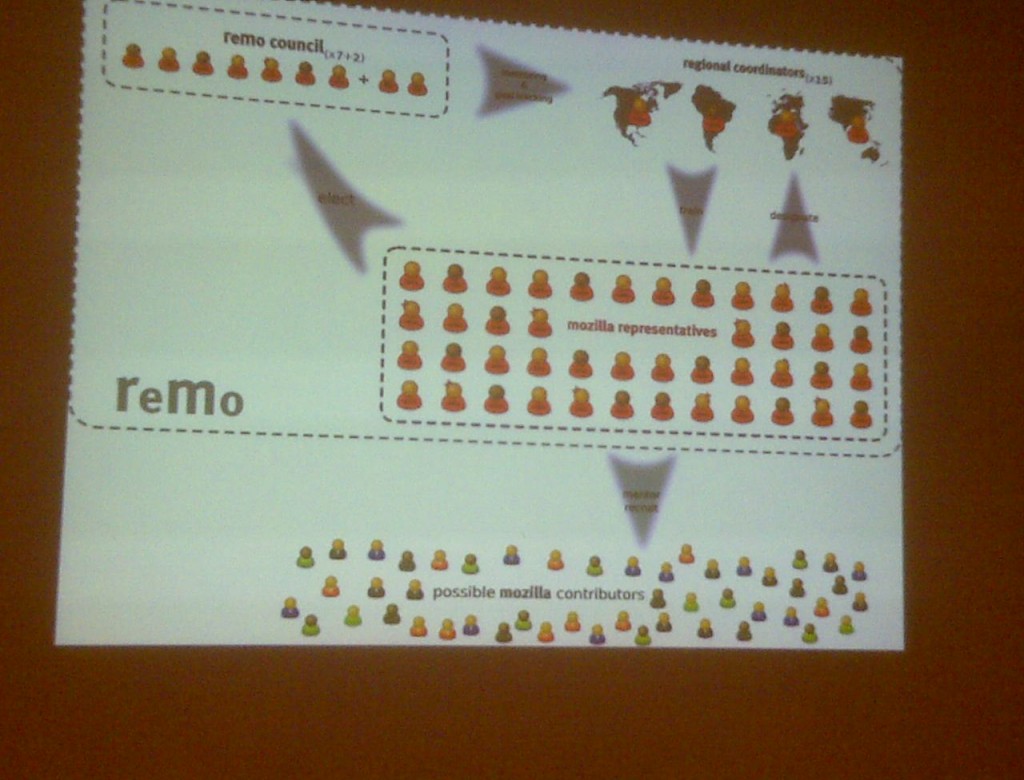 Kelas terakhir yang saya ikuti adalah Fuzzing at Mozilla oleh Gary Kwong (Product & tech). Fuzzing, a form of randomized testing, is an integral portion of the testing process at Mozilla. Crashes, hangs, assertions and various security problems, such as memory safety problems, are discovered through fuzzing. Gary shared the high-level overview on how Mozilla makes use of fuzzing to discover these issues, in addition to how one can help out.
Closing remarks oleh Mitchell Baker, menutup seluruh rangkaian acara Mozilla Camp Asia 2011 ini.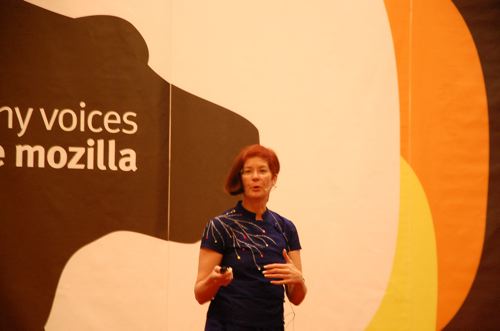 Dan selesailah acara #MozCamp Asia 2011 di Kuala Lumpur, Malaysia. Selanjutnya adalah foto-foto, networking sana-sini, dan saya serta Benny Chandra dikasih standing banner resminya MozCamp untuk ditaruh di regional masing-masing. Yay!
Please watch this video: