Hulaa..

Uhm, postingnya telat neh, mestinya dah dari tadi sore, tapi berhubung gw ga sempat banget untuk nge-net ya udah deh :)
Thank you banget buat Kidy-ku sayang yang udah capek-capek meluangkan waktunya untuk mendesainkan gw template blog untukku. Mungkin dia prihatin lihat desain gw kemarin yang serba ancur-ancuran hehehe

.
Nah kali ini postingnya gado-gado lagi deh. Yah soalnya borongan gitu yang gw mo ceritain. Dan kayaknya kali ini lebih banyak dari yang kemarin itu

.
Nah pertama, kayaknya gw mo pake bahasa Indonesia dulu deh lagi untuk posting-posting gw. Entah kenapa akhirnya gw putusin gitu, padahal ngga ada yang ngasih masukan

. Yah kecuali Leo sih yang malah nanya "bisa posting pake bahasa Makassar ga"
.. lha kalo bahasa Makassar doang bisa tambah sempit dong jumlah pengunjungnya. Tapi kayak blog dokter Accang gitu, sebenarnya rada unik juga kali yee. Hmm…
Kedua, kemarin tanggal 2 Januari 2004, sohib gila gw si Mirah a.k.a Amanda, akhirnya melangsungkan pertunangannya dengan Tony Mitchell (dah bener ga neh tulisannya, Mir??). Mirah itu dah kayak sodara gw banget deh. Gw kasih lihat fotonya waktu masih kuliah bareng. Waktu itu kita ke Jakarta bareng untuk menghadiri Diskusi Nasional PSMKGI (Persatuan Senat Mahasiswa Kedokteran Gigi Indonesia) di USAKTI, Jakarta. Sebenarnya dia tuh senior gw di FKG UNHAS, dan sama-sama pernah kerja di SMART FM Makassar sebagai jurnalis, gw news reporter, dia news reporter juga merangkap news reading. Tapi setelah meraih gelar kesarjanaannya, dia nggak ngambil profesi tapi langsung melanglang buana di dunia jurnalistik, sempat bergabung ama Kompas dan SCTV. Setelah SCTV, kemudian dia ke dunia kedutaan dengan kerja di Australian Embassy (yup! yang di Rasuna Said itu lho). Dan di situ lah dia bertemu dengan calon suaminya. Ok, let's to the point deh!
Intinya gw menghadiri acara pertunangan dia yang diundang secara tiba-tiba via telp di tengah malam buta. Dasar Mirah, kapan sih ga bikin kaget gw?? Acaranya dilaksanakan dengan adat bugis. Ini sejumlah foto-foto waktu acara dia..


..the ceremony..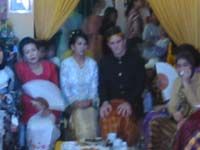 ..tukeran cincin..


..bersama para pengacau..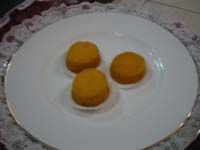 Kue bugis. Yang kanan itu namanya kue pelita, yang kiri namanya cucur bayao.

Nah yang ketiga, hari ini hari keramat kedua buat gw dan Kidy. Foto di sebelah itu adalah foto yang dambil tepat 4 tahun yang lalu, tanggal 3 Januari 2001, di Dufan. Yah menyambung dari rendezvous tanggal 1 itu (lihat posting di bawah deh), berlanjut ke rencana awal yang emang udah direncanakan sejak sebelum ketemuan itu. Rencananya sih mau rame-rame ama teman-teman #Pondok-Undernet, tapi sampai akhir keberangkatan pada ga ada konfirmasi atau ada yang tiba-tiba batal, ya udah deh akhirnya kita berdua aja

.
Di Dufan kita naik hampir semua deh! Dari yang tenang-tenang macam istana boneka sampai yang paling gila-gilaan macam halilintar dan kora-kora. Eh kora-kora ngga jadi ding, abis doi takut heuheheh. Pokoknya hari itu gw sangat sangat having fun banget deh! Dan gw ga mau jaim-jaim seperti yang biasa dilakukan cewek-cewek lainnya kalo pergi ma cowok berdua doang. Gw aslinya cuek abiss!! Sampai suka kesandung segala, trus ga malu-malu bilang kalo gw lagi laperrr
.

Foto di sebelah ini diambil pas kita istirahat setelah dari Istana Boneka (Duh kurus banget yah dia dulu…
). Duduk-duduk di bangku, suasana jadi romance banget gitu. Lagunya Frank Vali Can't Take My Eyes Off You (yang kemudian gw suka plesetkan jadi Can't Take My Eyes Off dan diprotes ama Kidy: "Dih emang manekin bisa dicopot2"). Yes, it is too good to be true, suasananya bener-bener happy banget. And he seems so enjoy the song too!! And at that time I figured that he really got a big crush on me, by the way he acted, he starred at me in many times and by the way he treated me. And you know what.., after that we walked to the next game while holding hand!! Awwww!
Pas di antrian Arung Jeram gitu, he held my hand so tight! I couldn't stand it, I couldn't resist it, I just enjoy it
. Gw lihat dia suka nyuri2 pandang gitu ke gw, akhirnya gw isengin aja nanya "apaan sih lihat-lihatin gw, naksir ya?" Dan dengan spontan dijawab "iya" ama dia. Hueh.. langsung kaku deh gw hehehehe
.
Keluar dari Arung Jeram udah rada gelap, akhirnya kita ngantri ke Bianglala (waktu itu gw bilang "Biar yang basah-basah tadi bisa kering dengan cepat hehehe"). Dan keselnya pas udah dapat seat berdua, eh tiba-tiba ada dua orang rese maksa masuk di tempat kita juga. Ya udah deh privacy-nya ilang
. Akhirnya kita cuma bisa diem-dieman aja sambil menikmati pemandangan malam. At that time he hold me tight
…and just that. Nothing else. Actually I expect for something more romantic, but nothing.. I guess gara-gara 2 pengacau tadi nih hik hik. Belakangan baru gw tau ternyata doi udah merencanakan mau "nembak" gw di situ tapi nggak jadi
.
Nah setelah itu kita maen Carrousel (hampir tutup pula sampai harus lari-lari di antara besi-besi antriannya), foto-foto yang banyak di situ (walah serasa jadi foto model banget gw difotoin mulu seh).
Pulangnya, naik bis bareng balik ke Blok M. Selama perjalanan ke Blok M gw ketiduran (capek abizzzz), trus sampai di terminal Blok M gw kudu nyambung lagi ke terminal Lebak Bulus untuk sampai ke rumah gw. Malam itu jam 9 tepat, kita sampai di terminal, trus dia tanya "kamu naik apa?", gw bilang "ah naik bis juga nyampe", trus tiba-tiba ada Mayasari Bakti lewat sambil triak-triak "Bulus bulus…".. Gw dalam hati "duh ke bisnya cepat banget sih".
Kidy pun nunjuk2 ke bis, "Tuh bisnya dah ada".
"Ya udah gw duluan ya kalo gitu. Thank you banget yah buat semuanya." trus gw lari ngejar tuh bis yang cuma memperlambat kecepatannya. Dalam hati gw pengen banget kalau dia bisa nganterin gw, tapi yg gw lihat dia hanya meliaht gw gitu dan ga ngejar bisnya. Yah.. udahlah. Gw dah cuek aja abis itu, ga mungkin lah gw suruh-suruh dia nganterin gw, emang gw siapa gitu, pacar juga bukan
.
Pas sampai di rumah, gw selesai mandi dan bersiap-siap naik ke tempat tidur, tiba-tiba sms dia masuk, "lagi jalan pulang ke rumah, met bobo ya. love u.".
DHEGG! Hati rasanya kayak mo copot

. Wah ditembak nih, tapi payah ih via sms. Dan gw lupa
) gw reply apaan ke dia hehehe. Hunny, ingetin gw dong hehehe.
And that the day I were "shot" by him, but because I demand verbally, I still don't think today is the day. But anyway, happy anniversary, hunny! Kita dah 4 tahun lho. Ga ada yang bakalan bisa nyangka kita bisa selama ini. Dengan hubungan jarak jauh seperti ini. I wish we always be and we can grow old together.
*mwah*