Selamat pagi, Genting. Itu twit pertama saya di hari kedua ini. Badan masih ingin ngulet di tempat tidur gara-gara kehebohan di Patio Lounge and Bar semalam. Tapi karena segabreng daftar kegiatan hari kedua udah luar biasa, jadi harus segera bersiap-siap.
Buat yang baru baca dari postingan ini, baca yang Day 1 dulu yah :D
The Bakery
Sarapan di sini sangat enak. Ada pilihan berbagai macam roti dengan berbagai macam isi, bisa dipilih seenaknya, mau extra keju, atau extra salami. Setelah pilih-pilih, roti akan dipanaskan oleh pelayannya. Selain sandwich, ada juga bermacam-macam kue untuk jadi pilihan sarapan.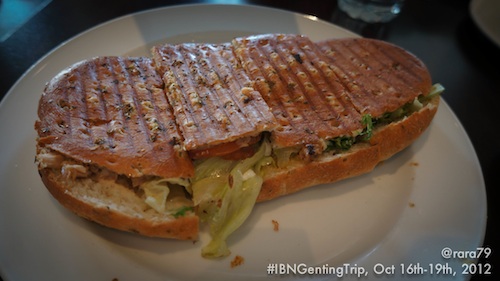 Genting Outdoor Theme Park
Setelah sarapan yang kenyang, tibalah saatnya kita untuk bermain. Yaaayyy!!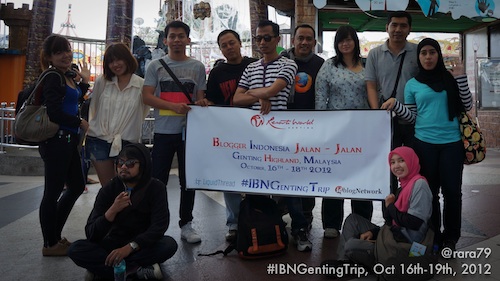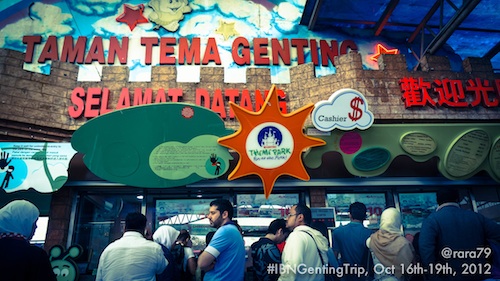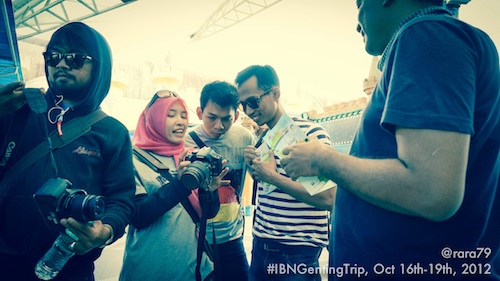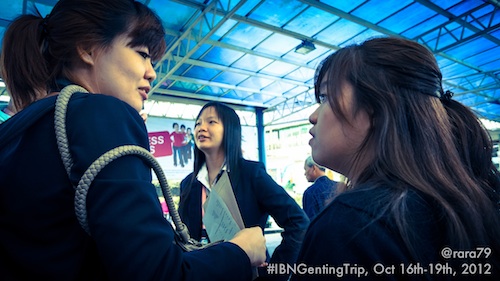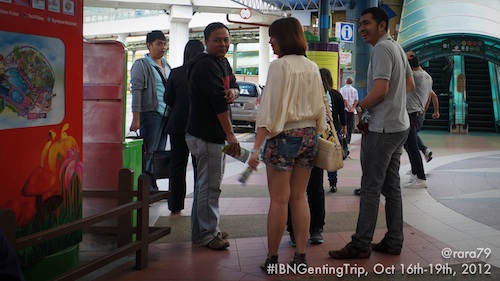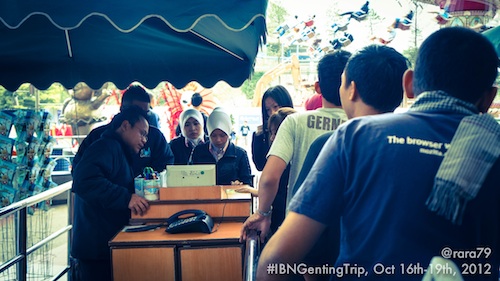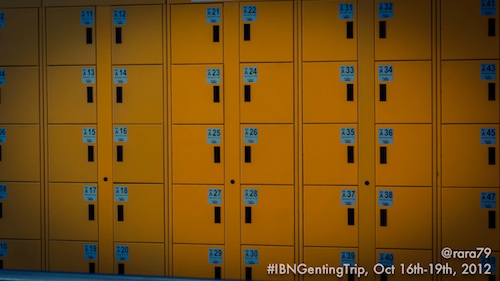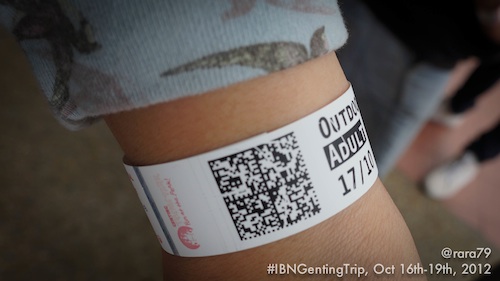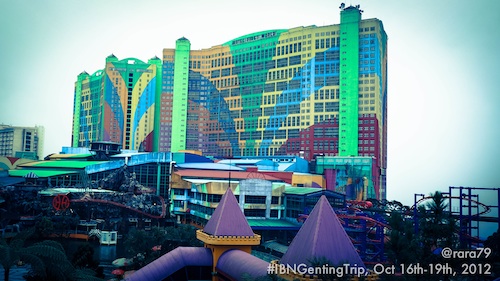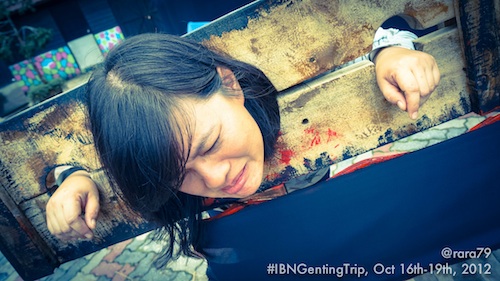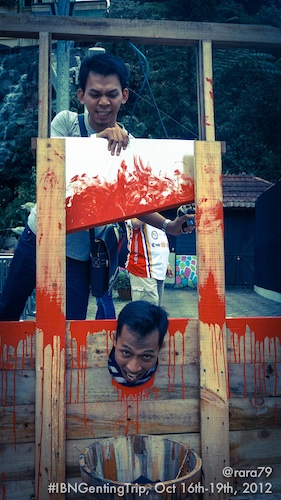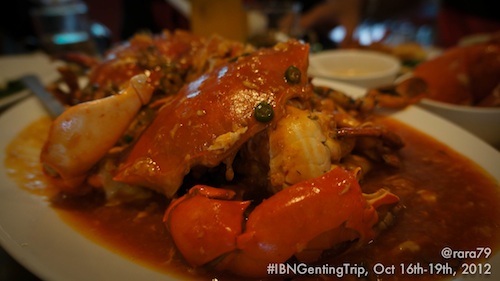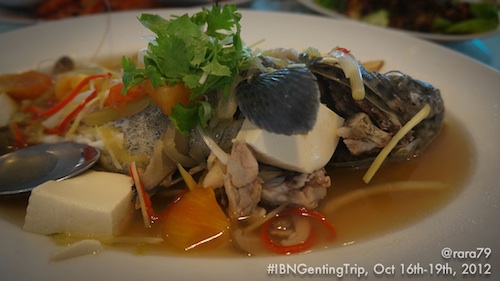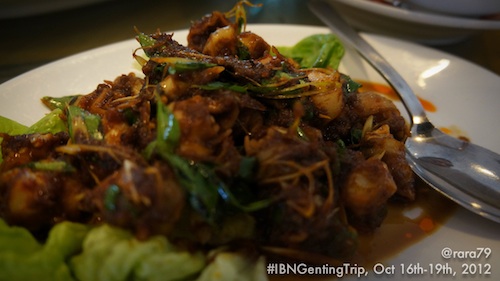 Sampai mengenyang :))
Snow World
Setelah kenyang, kami lalu berpindah tempat ke Snow World. Dikirain tempatnya jauh dari restoran, ternyata masih berputar-putar di situ-situ saja :D Snow World ini terletak di samping Casino de Genting, yang masih berada di area Indoor Theme Park Genting. Oh wew.. ternyata :))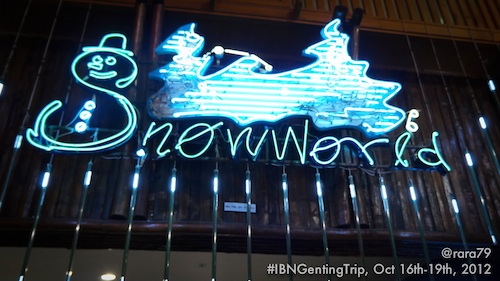 Sebelum masuk, diwajibkan untuk memakai baju hangat yang super tebal, sepatu karet, dan sarung tangan. Semua disediakan oleh Snow World, kami tinggal menyesuaikan ukurannya saja. Tas, barang-barang, kamera, handphone, dll disimpan di dalam loker, dan kunci dipegang oleh masing-masing orang.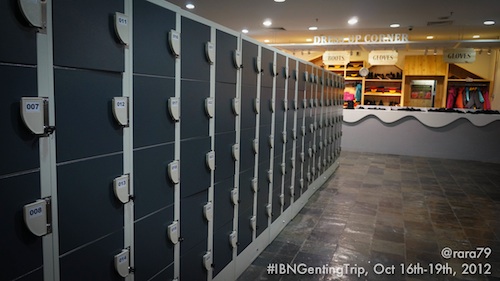 Saya belum pernah pegang salju, jadi gak tau seperti apa sebenarnya salju itu. Masuk ke sini, serasa berada di suasana musim dingin negara-negara di eropa sana. Selain hamparan salju yang luas, Snow World ini juga dihiasi dengan dekorasi ala eropa dan antartika. Ada igloo juga :D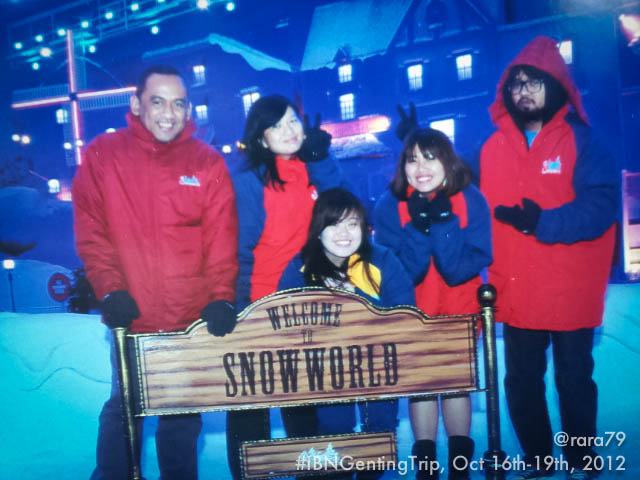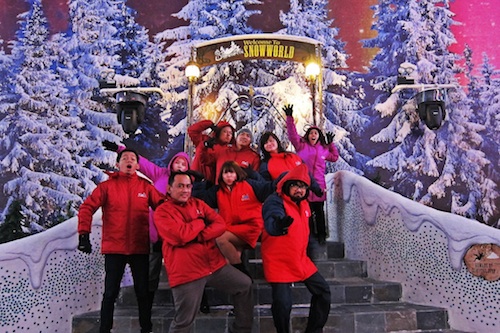 Di dalam Snow World, ada fotografer khususnya di dalam, jadi kita bisa foto-foto lalu fotonya diambil di luar. Juga ada prosotan yang terbuat dari es, dan kita naik ban gede banget supaya bisa perosotan di situ :D seru seru seru!
Sky Venture
Genting Sky Venture ini adalah tempat di mana kita bisa merasakan bagaimana rasanya menjadi seorang skydiver. Dengan terowongan angin yang berisi angin dengan kecepatan 193 km / jam, kita dapat merasakan sensasi melompat keluar dari pesawat dan free falling dari sekian ribu kaki dari atas tanah. Huih..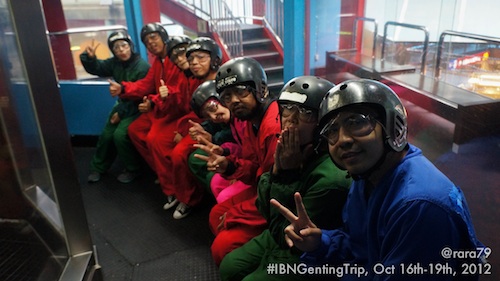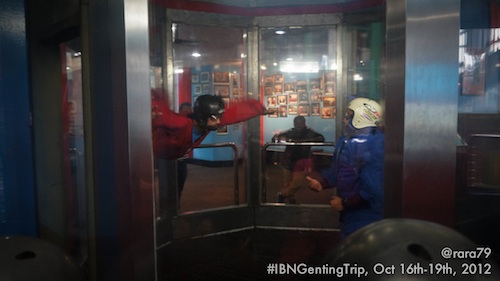 6 menit bersama instruktur itu rasanya mengasyikkan sekali. Tetapi sayangnya saya nggak bisa ikutan karena ada batasan kilogram. Huaa :(
Kira-kira setelah dari sky venture ini, pada masuk angin nggak ya? =))
M Spa
Setelah badan diubek-ubek naik wahana, didorong-dorong dengan angin kecepatan tinggi, saatnya untuk perawatan dan meluruskan segala hal yang perlu diluruskan :D
Menurut Resorts World Genting, M Spa ini merupakan the best spa in town. Highly recommendation.. oh okay, jadi mari mencoba :)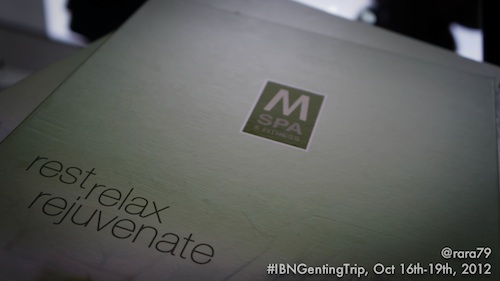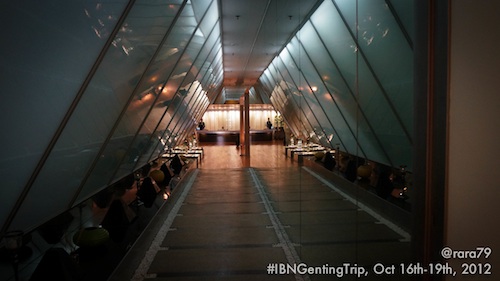 Ada 3 macam paket yang disediakan.
Body scrub + neck n back massage
Body scrub + foot massage
Ear candle therapy + face massage
Saya mengambil body scrub + neck n back massage, dengan choco scrub. Saya dipersilakan masuk ke ruang terapi (yang ternyata ruangannya untuk 2 orang dan ada jacuzzi-nya di dalam ruangan).
Wangi coklat menyeruak saat perawatan dimulai. Dan pijetannya.. huah top abis! Pegel-pegel di punggung selama ini jadi hilang. Luar biasa. Sebandinglah dengan harga yang diberikan.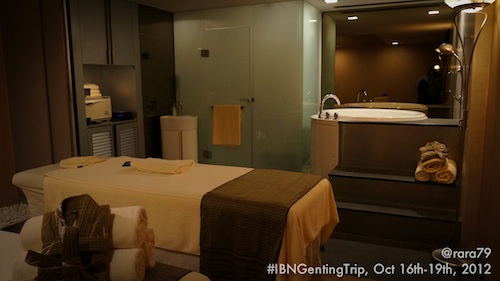 Setelah perawatan, saya diantar ke ruang Female Spa untuk menikmati complimentary jacuzzi, sauna, steam. Boleh pakai sampai benar-benar puas tanpa batasan waktu :)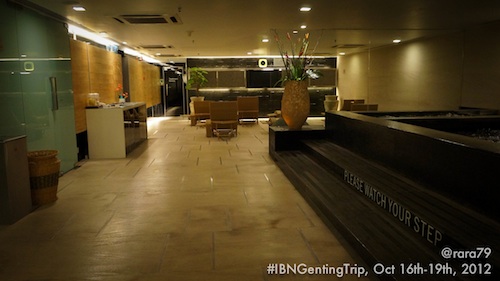 Ming Ren Restaurant
Resto dengan Lamb Specialty Cuisine ini, makanan-makanannya disiapkan dan dimasak dengan segala kesempurnaan. Saya yang nggak suka makan mbek ini, malah menikmati segala hidangan yang disediakan oleh Ming Ren Restaurant ini. Makan malam yang sangat mengenyangkan :>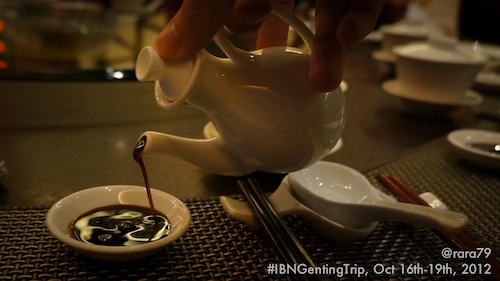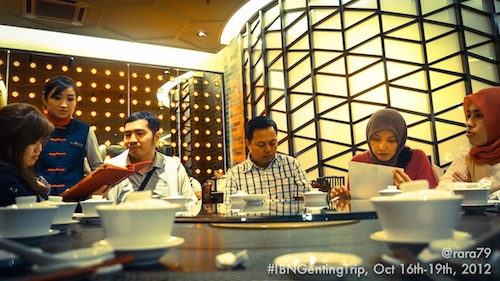 Yang agak awesome adalah Lamb Ice Cream. Rasanya luar biasa, dan sampai sekarang masih penasaran, gimana caranya masukin si lamb ke dalam ice cream ini lalu dihidangkan dengan rasa yang luar biasa.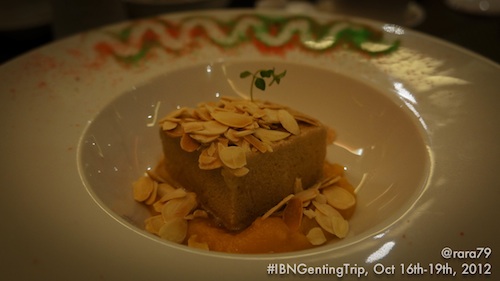 My favourite dish : Lamb Skewers! :D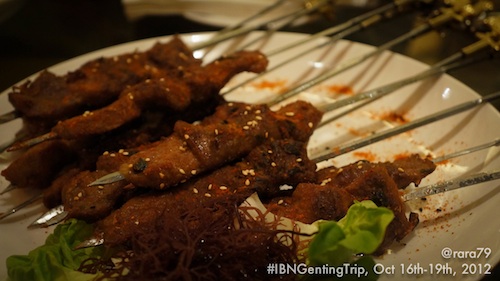 Kahlua Time!
Hahaha.. free time akhirnya :) saya dan beberapa blogger kemudian memutuskan untuk berjalan-jalan dan mencari tempat yang kira-kira asyik untuk menghabiskan malam terakhir di Genting ini. Dan akhirnya kembali ke Patio Bar and Lounge haha :D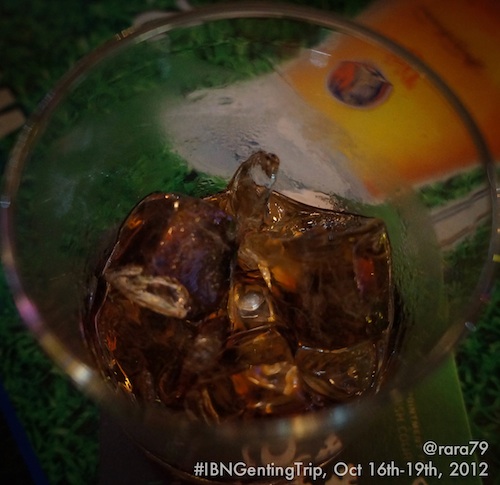 9016 Craziness
After spending the whole day, jam 1 pagi pulang ke hotel. Tapi yang dilakukan adalah.. ngumpul lagi di kamarnya Wit (9016), and mari kita lihat video di bawah ini :)) Made and edited by Witanto Prasetyo
C u in the next post, day 3 :)