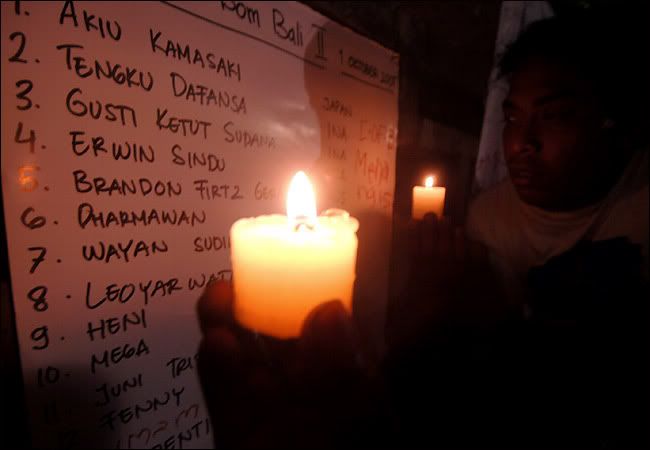 I cannot believe that there's another bomb in Bali after 3 years bomb in Bali that killed 202 people in October 2002. Indonesian police believed that three suicide bombers carried out the bombings at the two sites, a presidential spokesman, Dino Djalal said this morning. The police found a total of "six legs and three head but no middle bodies and that's the strong sign of suicide bombers," Mr. Djalal said.
Last nite just 3 hours after arrived in Makassar, I got a sms from Kidy said: "Bom bali, hardrock+nusa dua+kuta square".
HAHH!!???! What the..??!!
Jujur, gw kaget banget. Aargh.. ga tobat-tobat juga tuh teroris menghancurkan negara ini. Maunya apa sih?? Bangsa ini yang sudah terpuruk karena nilai rupiah mulai merosot, langkanya BBM, dan sejulah bencana alam yang memerlukan banyak tenaga dan dana untuk memperbaiki kembali, ditambah dengan kejadian memalukan ini (lagi-lagi!!).
Duh!
Siapa sih yang diincar? Apa sih maunya? Seenaknya membunuh orang seperti itu? Justru karena hal-hal ini, yang rugi bukannya negara-negara bule itu melainkan kita sendiri. Lengkaplah sudah bangsa Indonesia makin dicap sebagai negara teroris. Mungkin kita bisa menangkis, tapi percuma saja karena bukti yang ada sangat sempurna untuk menjadikan kita sebagai negara teroris.
Memalukan!!
Kasihan orang-orang Bali. Orang Bali itu nggak salah apa-apa, mereka sangat baik dan ramah. Mereka yang sempat terpuruk karena kekejaman pembunuhan massal antara tahun 1965-1969, susah payah membangun Bali menaikkan citra pariwisatanya. Tahun 2002 bulan Oktober, Bali kembali terpuruk. Hampir 1 tahun penghasilan di bidang pariwisata menurun drastis. Setelah 3 tahun sudah dapat meyakinkan para turis asing bahwa Bali sudah aman kembali dan penghasilan di bidang pariwisata mulai merangkak naik, Bali kembali diguncangkan dengan Bom di Kuta Square dan di Jimbaran.
Arrgh!!
Gw jadi ingat tahun 2004 kemaren gw ke Bali ama nyokap gw, sempat cerita-cerita ama ibu-ibu di pantai Kuta yang nawarin jasa massage kaki. Katanya, "Sejak bom itu, hampir tidak ada turis yang datang. Biasanya yang dalam 1 hari saya bisa dapat 2-3 pelanggan, sekarang jangankan 1 hari, 1 minggu pun saya tunggu di sini kurang turis. Waktu bom itu baru meledak, ada 3 bulan saya tidak dapat pelanggan."
Duh ibu itu sekarang bagaimana kabarnya ya? Yang menjadi korban setelah kejadian ini adalah orang-orang lokal situ. Mereka yang hidup dari menjual jasa kepada para wisatawan harus mulai lagi dari bawah. Tragis.
Kepercayaan dunia pada Indonesia makin pudar.
F**k terrorists! Bikin susah orang saja.
Harusnya para teroris itu disiksa dan ditembak mati.