Postingan ini merupakan sambungan dari postingan sebelumnya: Travelling to Bangkok (1).
Perjalanan dari Suvarnabhumi International Airport menuju Khaosan Road memakan waktu kurang lebih 45 menit. Sesaat setelah naik, supir taksi bertanya apakah mau pakai argo atau tidak mau pake argo. Kalau pakai argo mungkin bisa nawar. Tapi berhubung kami berdua tidak tahu menahu soal jarak dan harga yang pas untuk ke Khaosan Road, maka kami minta pak supir untuk menyalakan argonya saja. Dengan catatan harga di argo di luar biaya tol.
Gerbang tol pertama 25 Baht, dan gerbang tol kedua 45 Baht. Karcis tolnya cukup unik. Kalau di Indonesia karcis tol-nya serba ngirit dan komputerisasi, di Bangkok karcis tol-nya lebih besar dan manual. Bukan manual tulis tangan, tapi manual dilubangi pada gerbang tol yang dilewati. Total ongkos taksi yang harus dibayar adalah 470 Baht, tidak termasuk tarif tol tadi.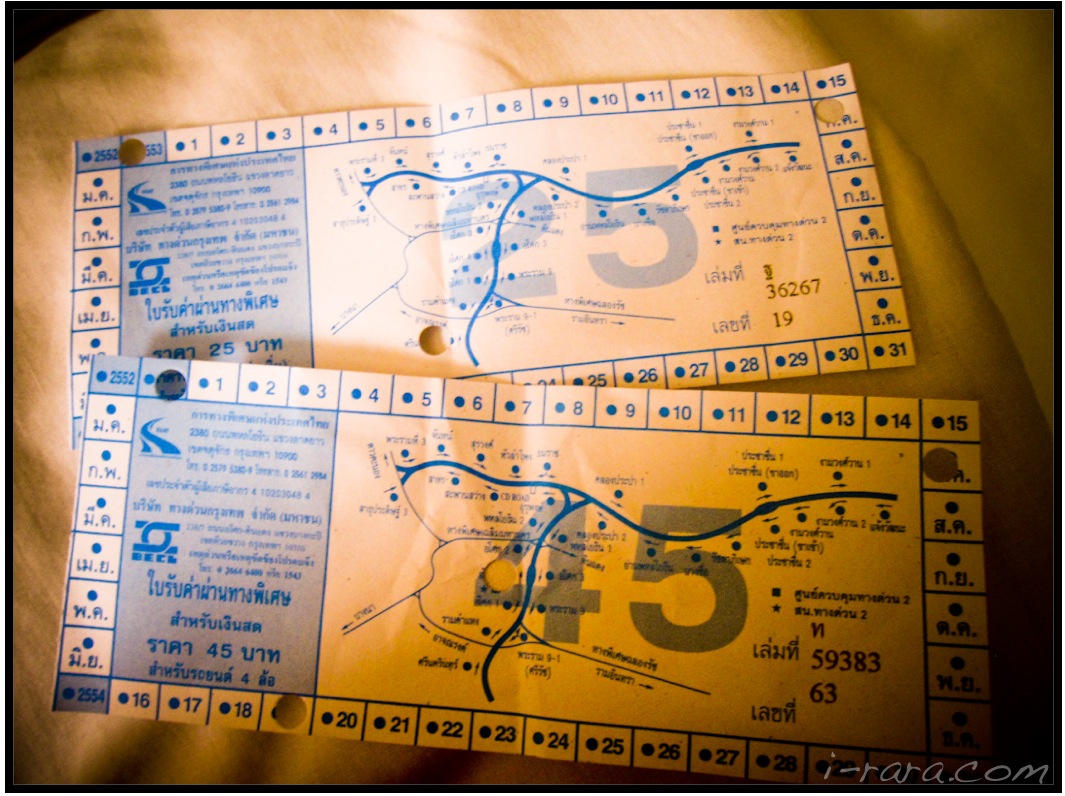 Tiba di Khaosan Road, taksi ternyata tidak bisa masuk karena pada malam hari jadi car free night :D untungnya Rikka Inn ini terletak di ujung Khaosan Road yang dekat Burger King. Jadi dari ujung jalan pun tidak terlalu jauh.
Akomodasi
Rikka Inn terletak tepat di samping Mulligans Irish Bar. Di seberang Rikka Inn ada 7/11 (sejenis alfa mart / indo maret / Circle K), dan masih 1 gedung dengan Rikka Inn ada juga 7/11, money changer, tour and travel, serta tailor :D Ruang lobby dan resepsionis Rikka Inn tidak terlalu luas. Cukup lah untuk sekedar mengurus urusan check-in/check-out, dan numpang duduk sebentar sambil nungguin proses check-in/check-out.
Kami dapat kamar di lantai 5 dengan nomer kamar #511. Luas kamar yang kami pesan ini (standard double room) ukurannya cukup lah untuk berdua. Tidak terlalu besar tetapi pas. Tersedia kulkas, TV, A/C, meja rias, dan yang paling penting adalah… koneksi WIFI gratis yang dapat diakses hingga ke kamar!!! Ini yang penting! Wakakakak :P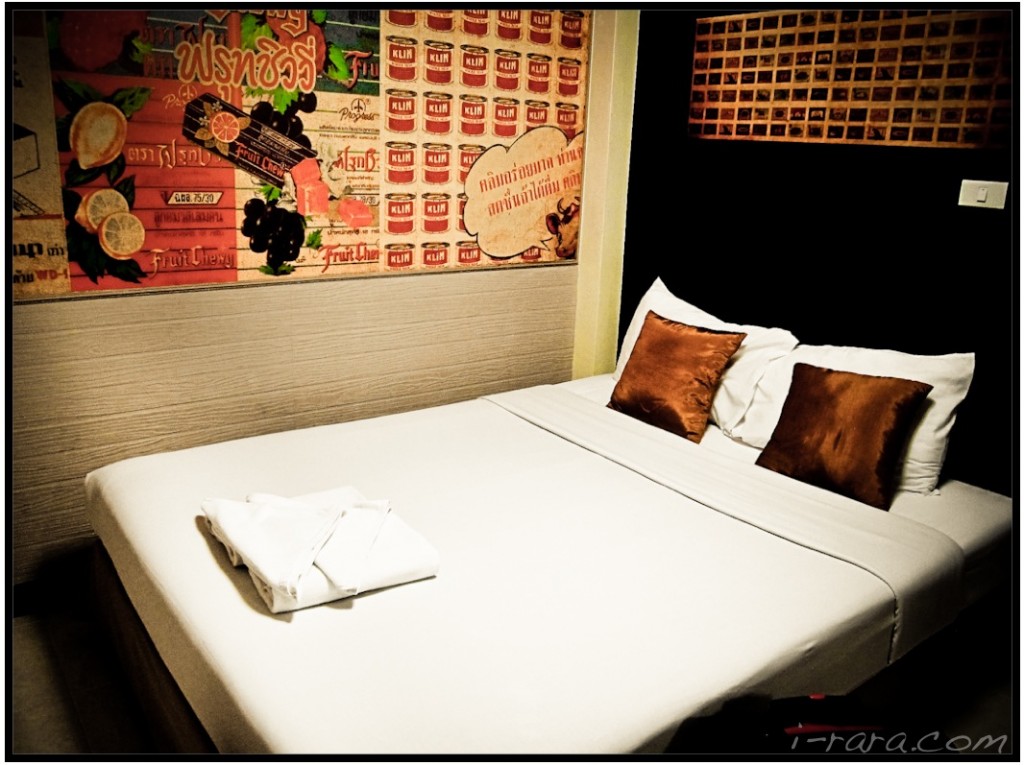 Keadaan kamar bersih, jendela menghadap ke bangunan sebelah (mungkin karena kamar standard), kamar mandi bersih tapi tidak terlalu luas, dan tentunya pake shower. Harga untuk ukuran standard double room ini, per kamar 1.150 Baht / malam. Sebenarnya ada lagi budget hotel yang lebih murah, tapi sayangnya penuh.
Khaosan Road
Setelah menaruh barang, saya dan Golda memutuskan untuk berjalan-jalan menyusuri Khaosan Road sambil cari makan malam. Sialnya, ketika kami tiba di luar, mendadak hujan. Terlihat banyak pedagang kaki lima yang terburu-buru menyelamatkan dagangannya. Bagi pedagang yang punya payung besar, mereka tinggal membuka payung dan kembali berjualan.
Setelah hujan sedikit lebih bersahabat, kami nekat menyeberang ke 7/11 di seberang Rikka Inn (lebih besar daripada 7/11 yang satu gedung dgn Rikka Inn) untuk membeli payung, seharga 45 Baht. Bermodalkan payung tersebut, kami lalu menyusuri Khaosan Road.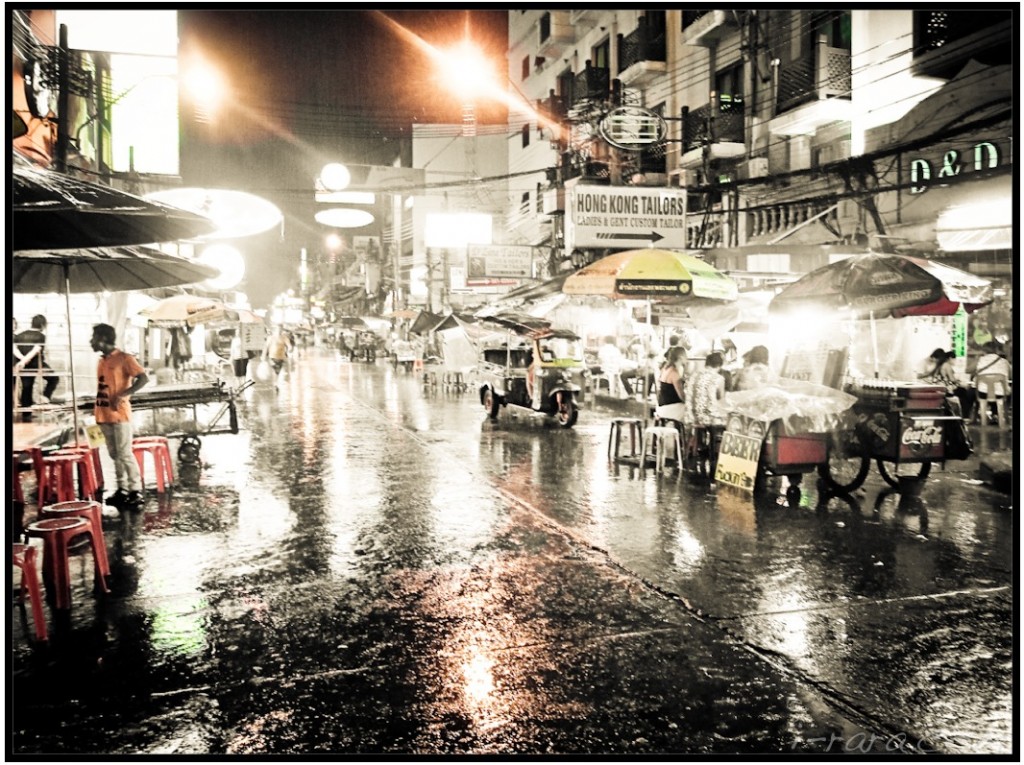 Khaosan Road ini merupakan area khusus untuk para backpacker. Banyak hotel budget yang bertebaran dengan fasilitas yang menarik (terutama free WIFI-nya), sepanjang jalan bisa diandalkan untuk night shopping. Dari jualan aksesoris, kaos, makanan, hingga jasa massage dan menggimbalkan rambut pun ada :D
Makanan
Setelah asyik menyusuri, kami lalu mencari makan. Perhatian tertuju pada pedagang kaki lima yang menjajakan pad thai, sate, dan lumpia. Sate terdiri atas 3 macam : ayam, sapi, babi. Satu tusuk harganya 10 Baht. Beberapa penjual sate juga jualan jagung bakar.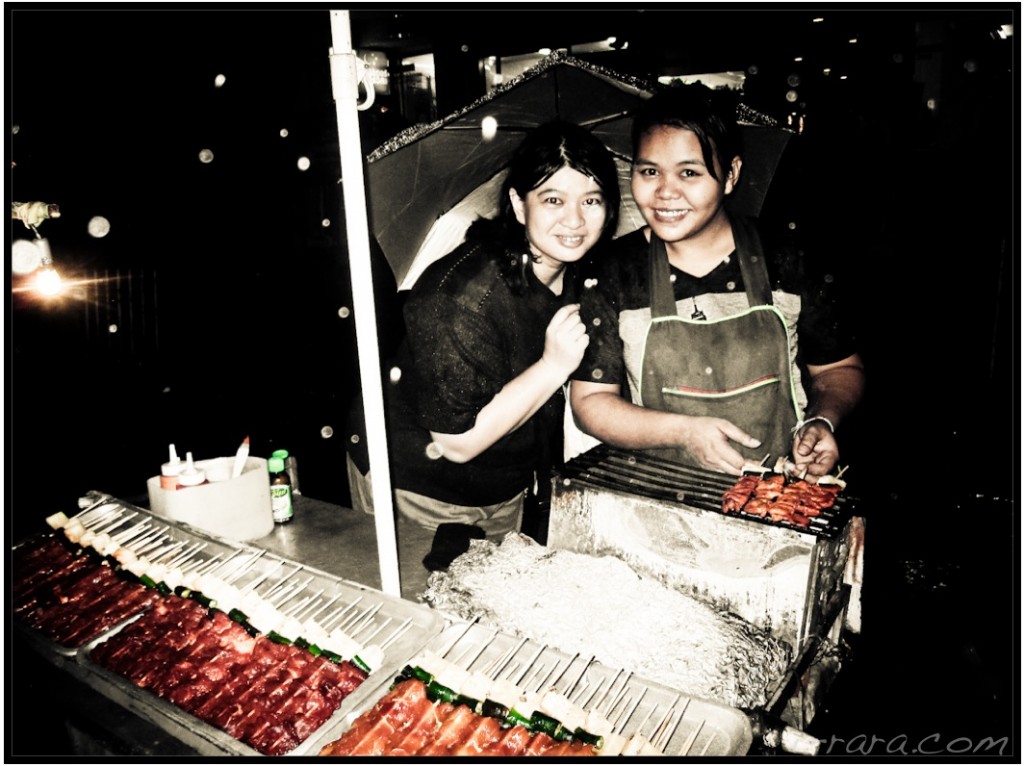 Kami memutuskan untuk membungkus sate, pad thai with shrimp, dan thai spring roll (lumpia). Pad thai adalah mie/kwetiaw/bihun goreng yang dimasak dengan toge, telur, pilihan daging (ayam atau udang), kemudian ditaburi kacang yang sudah ditumbuk dan bubuk cabe ala thailand di atasnya. Kalau lumpia-nya digoreng, kemudian dikasih sambal bangkok.
Sate 4 tusuk 40 Baht, pad thai with shrimp 50 Baht, lumpia 2 buah 20 Baht.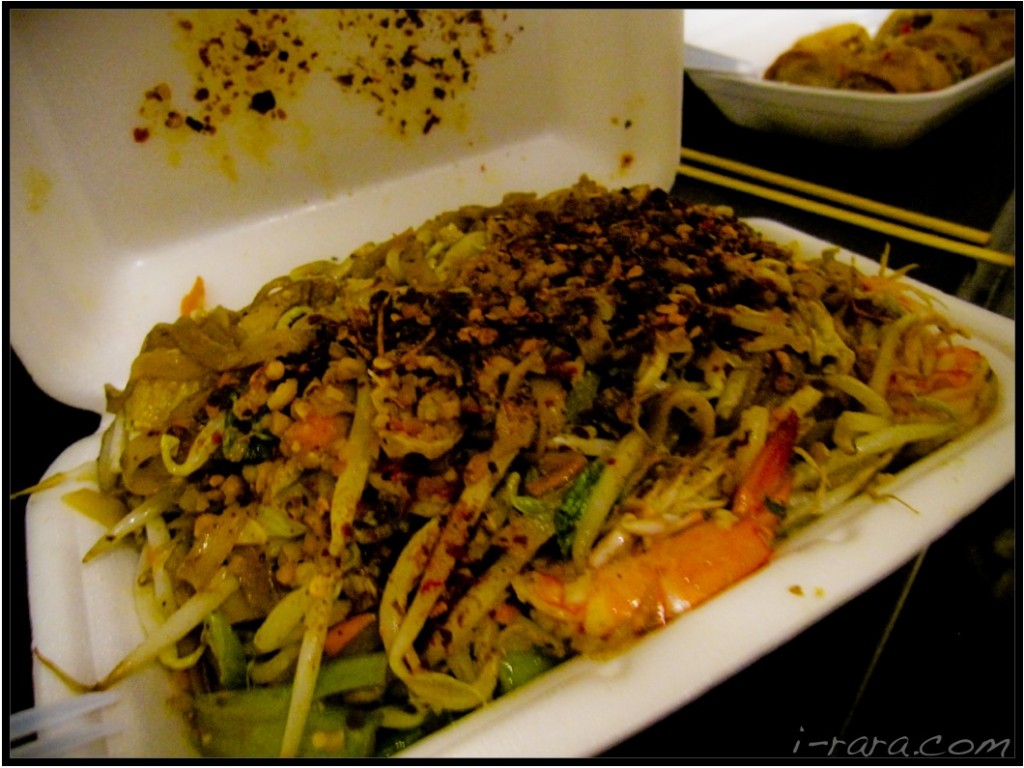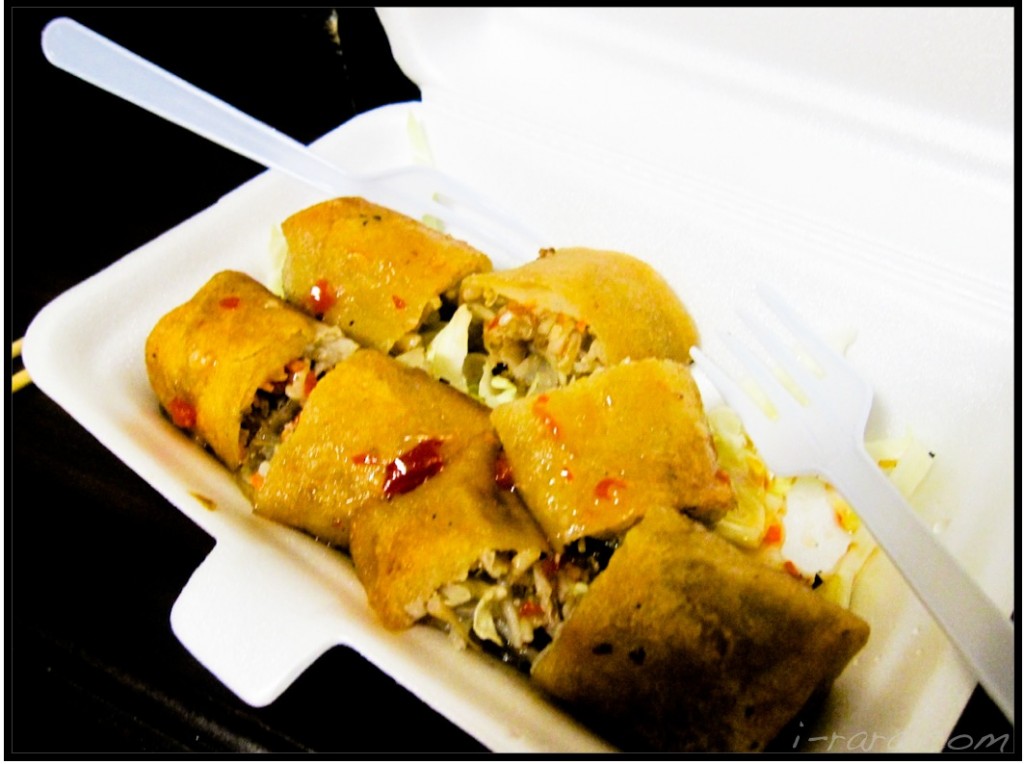 Rencana Trip
Esok harinya (20/07/2010) kami ingin pergi ke Damnoen Saduak Floating Market. Maka kami mampir di tour and travel depan Rikka Inn untuk memesan transportasi ke floating market tersebut.
Tur ke Damnoen Saduak Floating Market seharga 250 Baht / orang. Dijemput di lobby jam 7 pagi, dan merupakan half day tour tanpa makan siang. Jam 13.30 diperkirakan sudah kembali ke Bangkok.
Gimana cerita tentang tur ke pasar terapung itu? Nantikan di postingan berikutnya ya! :D
To be continue…