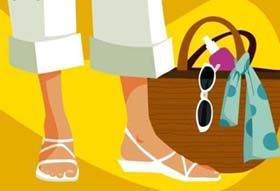 Kemarin, tanggal 26 Oktober 2005, akhirnya gw menapakkan kaki kembali ke bumi Anging Mammiri, kota Makassar yang tercinta. Dengan GA 604, jam 15.20 tepat pesawat tersebut mendarat dengan sukses, walauada sedikit decitan rem roda pesawat, karena kota Makassar sedang diguyur hujan yang sangat lebat. That means, landasannya licin.
Di perjalanan pulang dari bandara ke rumah pun, gw beberapa kali menguap lebar. Ngantuk. Rasanya perjalanan begitu panjang, macet dan sebagainya. Boring. Kaset di mobil pun ngga ada yang bagus-bagus lagunya, pada nurunin kaset favorit gw kali. Mo dengerin iPod Shuffle gw juga, lagi low battery gitu gara-gara dipake di pesawat dan malam sebelumnya. Lampu statusnya udah warna orange gitu bikin gw ga tegaan untuk maksa ndengerin.
Hhhh…..
Kembali ke kota aktivitas, kembali ke rutinitas, kembali kepada kehidupan nyata yang tidak bisa dipungkiri lagi. Welcome back to the reality! Huhuhuhu…
*menghela napas panjang*
By the way, sewaktu masih di luar Makassar, gw dan Soeltra udah saling ngobrol untuk rencana gathering (lagi-lagi) blogger Makassar hehehe. Awalnya sih rencana si Soeltra ini untuk buka puasa bareng di Pizza Ria Kafe, mumpung ada program makan sepuasnya. Gw sih ayo aja, tukang makan gini.. hahaha :D
Nah rencana itu bakalan berlangsung sebentar, dan untuk sementara blogger makassar yang udah konfirmasi ulang mo ikut:
– Soeltra
– Ocha
– Cikal
– Leo
Dan rencananya juga, mo nyambut pendatang baru di Makassar, si Chubby-gal. Hehehe..
Whatever happen, the show must go on!!
Yippie!