Bulan Agustus ini memang diberkahi oleh banyak hari libur. Tapi dasar gw yang pada dasarnya libur setiap hari (baca: malas2an ke klinik), jadinya malah bosan.
Sebentar palingan mau ke Mal Ratu Indah ama Bati, temanin dia nyariin pianika trus hunting flash disk. Katanya harganya 99rb di Hypermart. Hehehe gw bilang, paling buatan cina itu. Good luck aja makenya :P
Hari ini gw kira mau karaokean ama Intan, Ndy dan Tee-za. Eh sms-an ama Tee-za ternyata si Intan kedatangan tamu dari luar kota dan dia hendak berkeliling dengan si tamu itu. Mungkin hari Rabu, sekalian nyicipin free buffet-nya Happy Puppy berkat id-card-nya Tee-za :D
Bentar sore mungkin mo bowling-an. Ada yg mau ikut? :D
update pukul 22:53..
Akhirnya gw n Bati ke Mal Ratu Indah, kemudian makan di McD, lalu ke Hypermart GTC demi mencari flashdisk yg katanya murah itu, kemudian balik ke rumah.
Di rumah, ga tau mau ngapain. Ya udah niat ke Miko Bowl & Pool buat main bowling. Ngajak Chris n Armin juga. Jadi gw, Bati, Chris n Armin pergi ke Miko Bowl & Pool di jalan Pengayoman depan Alfa itu.
Sampai di sana, ternyata tempat bowlingnya lagi dibooking untuk turnamen. Semuanya full tanpa terkecuali!!
Daripada useless dateng ga ngapa2in, Chris ngajak untuk main bilyard, yang juga merupakan fasilitas yang disediakan oleh Miko Bowl & Pool itu. Gw ayo aja, tapi gw memberi warning duluan, "I can't play but I'd like to play, so teach me how :P" hehehehe.. Soalnya pertama dan terakhir sebelum hari ini, gw main bilyard di Puncak, sekitar tahun 1997 gitu, ama sodara2 gw. Itupun mereka ngedumel karena gw selalu bikin masalah krn asal 'nyodok' :D
Btw, Bati n Armin masih memilih untuk nonton aja.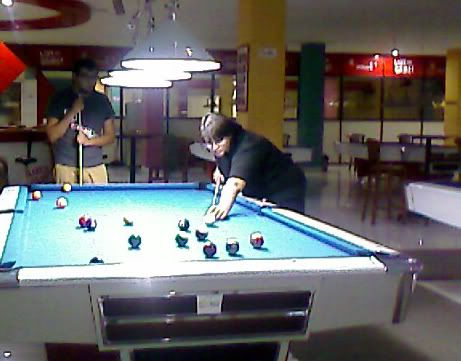 Dan permainan diakhiri dengan kemenangan gw :P
Kemudian berlanjut dengan permainan2 selanjutnya.. sampai 4 kali.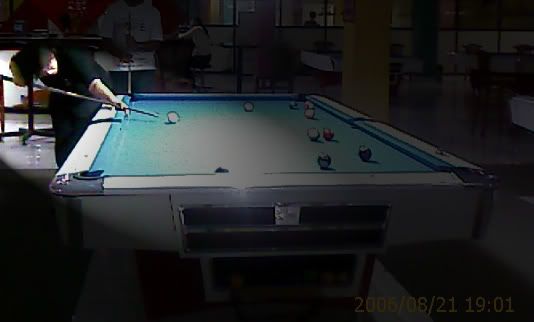 Hehehe..
Afterward, we went for dinner @Bakso Lapangan Tembak Senayan-Mal Panakukkang, and went home.