Gege Mencari Cinta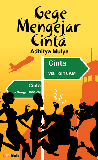 This book is amazing! That's the first sentence of my posting today about the book. Do you believe in first love? Well if you do, this book might attracts you seriously. If not, oh well, just read it! *maksa banget yeee*…
Gege Mengejar Cinta (Gege Running for Love), written by Adhitya Mulya, writer of his first best-seller book, Jomblo.
Gege is a simple-funny-no such a good looking-unnoticed man. His real name is Geladi Gernida. He crushed on Caca (a good looking-attractive-beautiful-charming lady), since when he was in junior high school. Beside his schoolmate until high school, Caca is also his neighbour. Although Caca is Gege's neighbour, but Gege is always un-noticed by Caca. Even they talk sometimes, but in something not-so-important things. And Gege always keep his feeling to Caca until he grew up to be a creative producer in a radio station. After about 10 years of Gege's life after high school, Gege saw Caca again.. in his office building, working in one of the bank in the building. His heart beating faster, and the story begins..
A very touching story from Adhitya Mulya. You should have it! There's plenty in the bookstores now. Truly recommended!
Score 1-10, I give 9 for the story :)
So have you read the book?