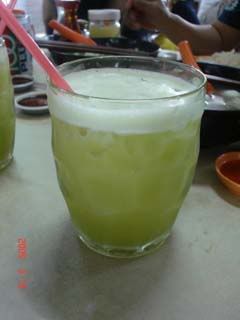 This photo on the left is a special drink from SIngapore. You wouldn't find it anywhere but Singapore. Name Sugar Cane Juice or Jus Air Tebu. Tebu usually forgotten in my country, but I envy Singaporean, they can discover something normal became an interesting thing and became a specialty in their country.
The taste.. Well, just commonly. Sweet, of course hehehehe.
Anyway, Why I'm reporting this? Where am I? Hehehe I'm in Singapore now fellaz!! Well I was here from last Saturday (19/03) till today. Tomorrow? Hehehe don't know :p
Hehehehe…
So?
Really coool!!!!
I'll be back later with some informations!! :) I'll tell you all how is my feeling to get into the BORDERS, a really big bookstore in the Orchard Road. I felt like in HEAVEN!!! There're so much books!!… Hmmm but that's another story hahahaha :P
Cya all, don't forget to comment huh!!