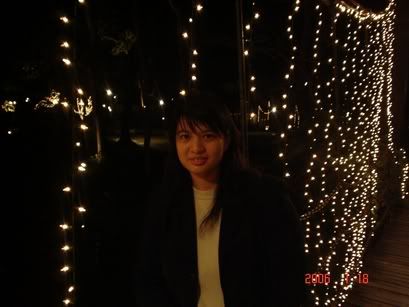 Sudah 5 hari di Chiang Mai. Sejak tanggal 15 Januari kemarin, tiba jam 1845 dengan Tiger Airways. Malamnya langsung jalan-jalan di tempat jualan macam-macam souvenir dan seni. Namanya Night Bazaar. Jualannya lumayan murah tapi harus nawar dengan tidak berperasaan. Pertama ketika dia buka harga langsung banting 50 persen. Trus naik dikit-dikit lah. Cukup 2 kali atau sekali naikin harga sekitar 10 atau 20 baht. Trus berlagak ga mau dan nyelonong pergi. Ditanggung langsung dipanggil lagi dan penjual pun nyerah hahaha :D
Trus harus nyobain Thai Massage. Enak banget! Dan nggak pake acara buka baju seperti yang disangka biasanya. Tetep pake baju, cuma ganti baju pake bajunya tempat itu biar baju kita nggak kusut. Untuk yang mijet biasanya dikasih sesuai dengan jenis kelamin si pelanggan (cewek dikasih cewek, cowok dikasih cowok) hehehe.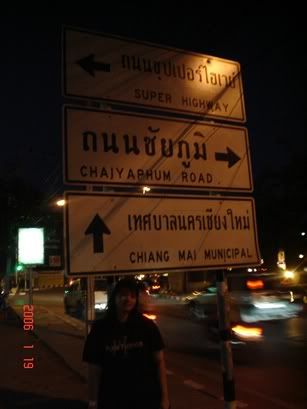 Untuk transportasi dalam kota ada 3 jenis kendaraan umum. Semua kendaraan umumnya tulisannya "TAXI".
1. Tuk Tuk: kendaraan yang cuma ada di Thailand. 3 roda kayak Bajaj tapi lebih besar dan muat untuk 3 orang. Next posting gw tampilkan gambarnya deh. Tarifnya biasa 20 baht per orang. Kalau nggak bisa ngomong Thailand biasanya suka di-mark-up.
2. Rot Daeng: kendaraan kayak pick-up truck (foto nyusul ya), kendaraan yang biasa dipake oleh orang-orang lokal di thailand. tarifnya berkisar dari 15 baht sampai 30 baht per orang, tergantung seberapa jauh tujuannya.
3. Taxi-Meter: ya taksi biasa warna kuning biru, cuma pake meteran :D lebih mahal tentunya lah.
Kalau mau naik kendaraan umum di Thailand, caranya:
1. Lambaikan tangan (ga usah tinggi-tinggi) di pinggir jalan.
2. Bilang ama supirnya tujuannya mo ke mana dan nawar harga.
3. Kalau mau berhenti, tekan bel yang ada di atas (di langit-langit mobil).
4. Kalau bayar, sebaiknya bayar dengan uang pas atau uang yang jumlahnya mendekati tarif yang ada (jangan bayar 20 baht dengan 1000 baht!!)
Ini ada beberapa catatan bahasa thai yang gw tau :P
Leaw saai = belok kiri
Trong pai = terus
Leaw khwaa = belok kanan
Kalau mau nanya harga, misalnya mo nanya berapa harganya untuk ke Night Bazaar? Bilangnya pai Night Bazaar thao rai?
Dan untuk semua kalimat selalu diakhiri dengan kata khap (kalo yg ngomong cowok) atau kha (kalau yg ngomong cewek). Bisa sih nggak pake khap atau kha, tapi nggak terlalu sopan jadinya.
Jadi kalo cowok nanya: pai Night Bazaar thao rai khap?, dan kalau cewek nanya: pai Night Bazaar thao rai kha?.
Ribet ya? :D
Thing not to do in Thailand yang gw pelajari selama di sini:
1. Kalau di kantor pos jangan ngelem perangko pake ludah (sometimes ppl lick the stamps), karena di perangko ada wajahnya sang raja Thailand, dan hal ini merupakan penghinaan.
2. Uang kertasnya nggak boleh kusut atau kucel-kucel. Penghinaan terhadap sang raja Thailand juga, karena wajah beliau ada di uang kertas tersebut.
3. Tidak boleh menunjuk atau mendorong pintu dengan kaki.
4. Kalau pangku kaki, arah ujung kaki tiak boleh mengarah ke seseorang. Tabu.
5. Kalau berpapasan dengan monk (botak n pake kain kuning :P) jangan sengaja nyenggol mereka atau bersentuhan dengan mereka. Mereka akan menjadi tidak suci.
Itu aja dulu. Sebenarnya mungkin lebih banyak.
Ok sampai sini dulu deh, nanti kalau gw dapat koneksi internet lagi baru gw mo lanjutin.
Besok gw mau ke Mae Sot, 6 jam perjalanan dengan bis ekspres dari Chiang Mai. Mae Sot itu terletak di sebelah barat dekat perbatasan Thailand-Myanmar. Mungkin bisa nyelonong 1 hari ke Myanmar hehehe..
So.. c u all..