Disclaimer: postingan ini sudah basbang, kejadiannya bulan Juli 2010, tapi lanjutannya ga jadi-jadi karena ga sempat melulu >.<
Postingan ini merupakan sambungan dari postingan sebelumnya:
– Travelling to Bangkok (1)
– Travelling to Bangkok (2)
Bangun telat, jam 6.45. Padahal penjemputan untuk ke Damnoen Saduak Floating Market jam 7 pagi. Langsung deh, mandi kilat, ga sarapan, ngabur ke lobby. Hehehehe.
Me and Golda on the way to Damnoen Saduak Floating Market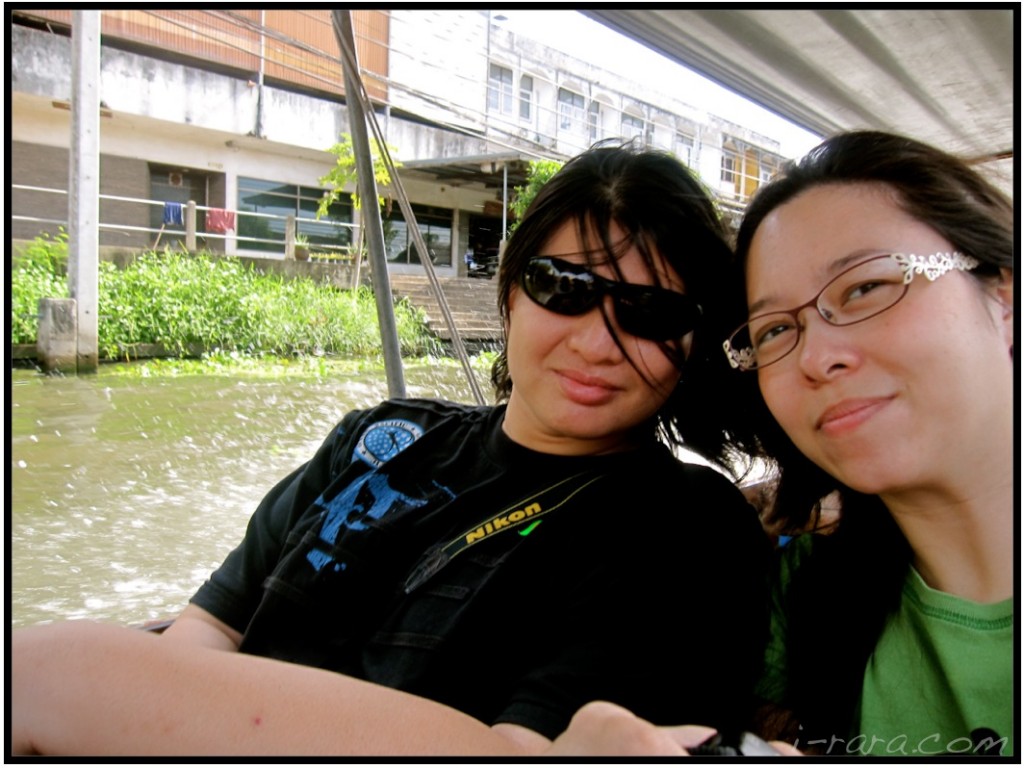 Damnoen Saduak Floating Market terletak 110 km dari kota Bangkok. Perjalanannya sendiri kurang lebih 1 jam, sampai di tempat semacam dermaga khusus untuk kapal-kapal yang ke floating market tersebut. Melalui kanal-kanal sungai dengan pemandangan rumah-rumah penduduk, kira-kira 1/2 jam kemudian sampailah kita di Damnoen Saduak Floating Market.
Pemandangan perjalanan ke Floating Market melalui sungai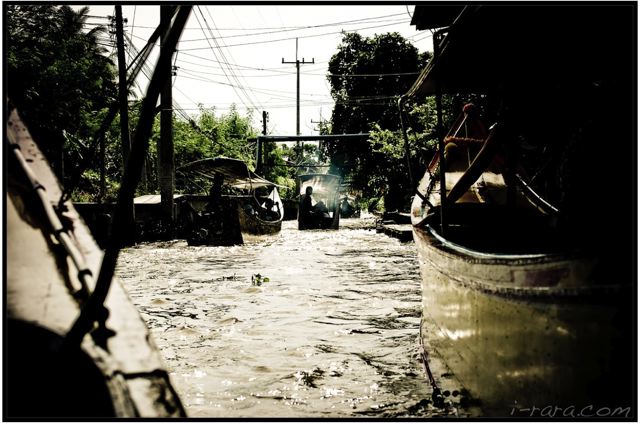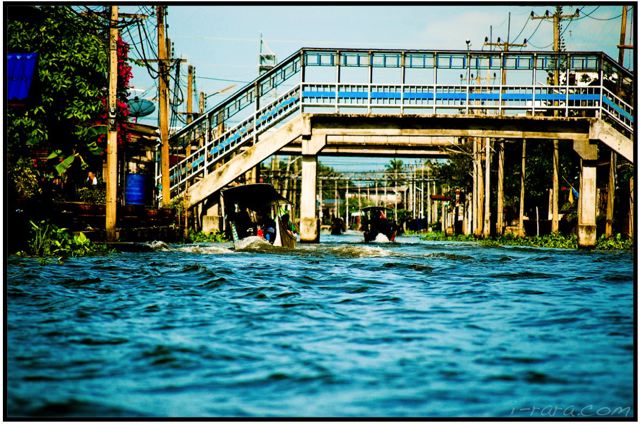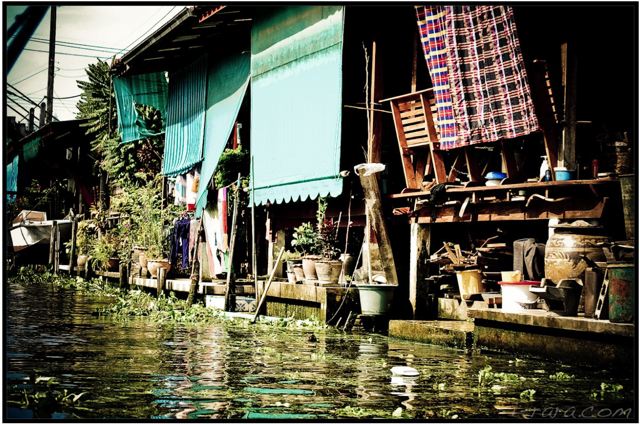 Turun dari kapal, jalan dikit melalui beberapa penjual souvenir, lalu tiba di daerah Floating Market-nya.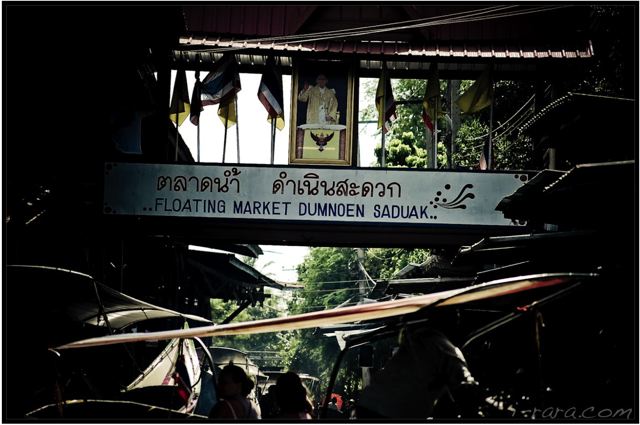 Dikasih pilihan. Mau ikut naik perahu lebih kecil (cukup untuk 4-5 orang saja per kapal) untuk menyusuri pasar, atau jalan di samping-sampingnya saja. Ya, karena kami niatnya sightseeing, tentu saja yang yang dipilih adalah naik perahu.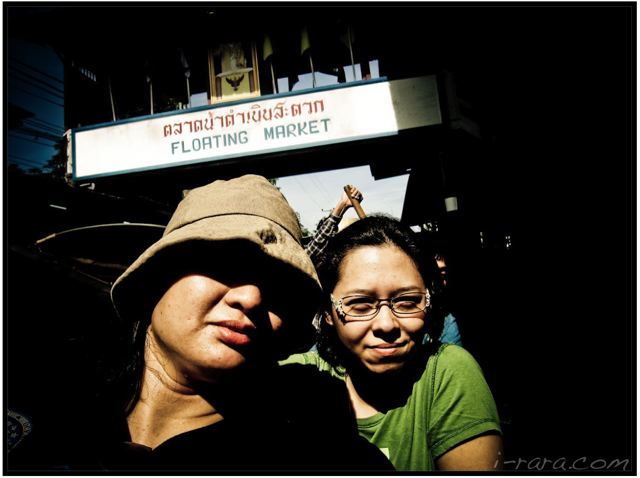 Dengan 10 Baht per orang, kami pun diajak berkeliling Floating market tersebut dari dekat, menyusuri pasar. Bisa sekalian belanja juga lho. Caranya, jika kita mendekat pada satu toko di pinggir sungai, tinggal pilih2 dan tawar menawar, pengemudi perahu akan sabar menanti sampai kita selesai berbelanja. Juga, tak jarang ada penjual dalam perahu mendekati perahu kita untuk menawarkan dagangannya. Jika tertarik, maka perahu penjual tersebut akan berdempetan dengan perahu kita -sambil tetap jalan- dan transaksi terjadi di situ.
Suasana di Damnoen Saduak Floating Market secara dekat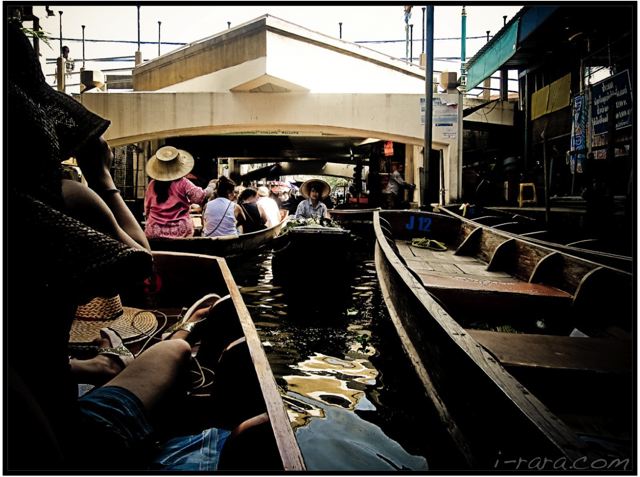 Pengemudi perahunya kebanyakan ibu-ibu, lho.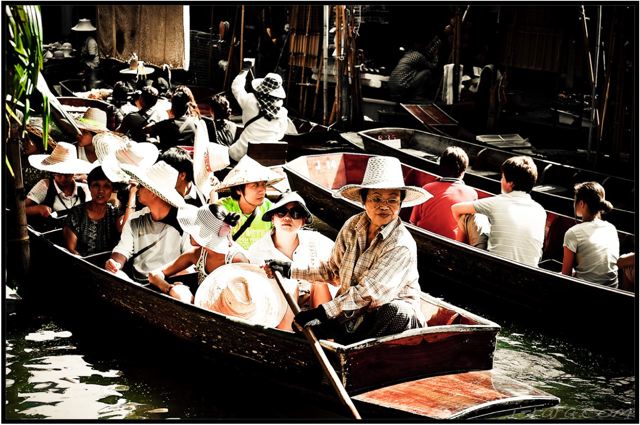 Penjual mangga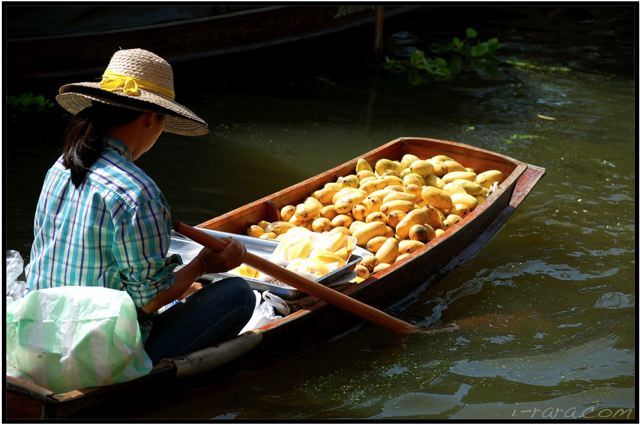 Mangga dalam jarak dekat. Menggiurkan, glek.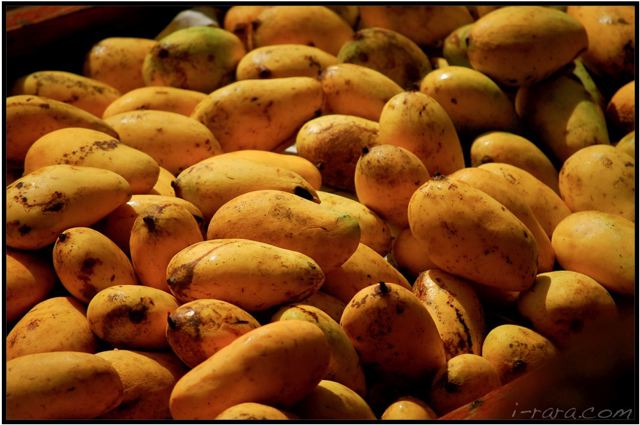 Transaksi antara penjual mangga dan pembeli dalam perahu.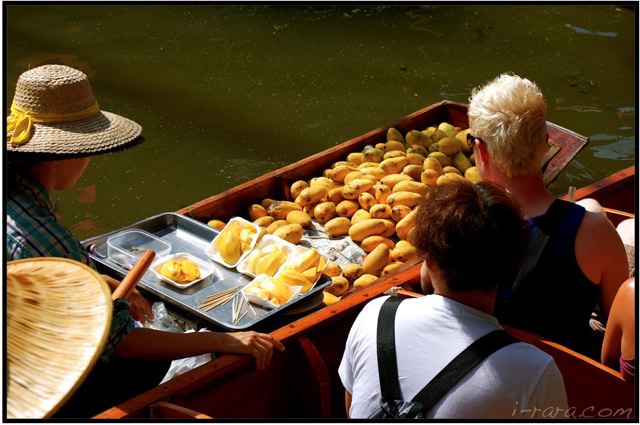 Dagangan lainnya yang juga dari atas perahu.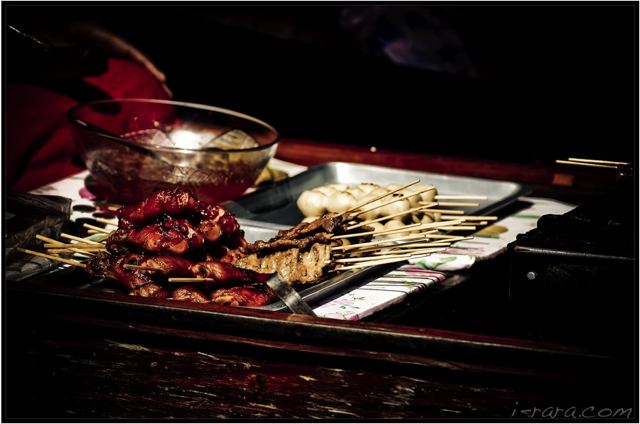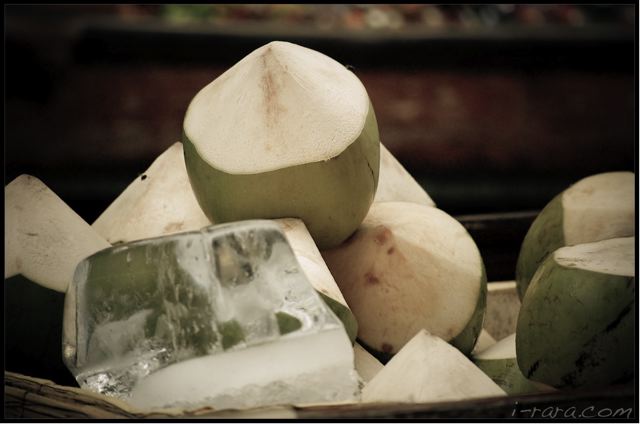 Usai mengelilingi pasar dengan menggunakan perahu, kami pun memutuskan untuk menyusuri pasar dari pinggir sungai. Ternyata menyusuri dari pinggir sungai pun tidak kalah menarik. Banyak perahu penjual makanan yang "parkir" di pinggir sungai untuk menjajakan makanannya. Dari makanan berat seperti rice noodle, nasi, hingga cemilan yang menyerupai crepes atau kayak apem tapi terbuat dari kelapa.
Suasana floating market dari jembatan yang berada di atas sungai.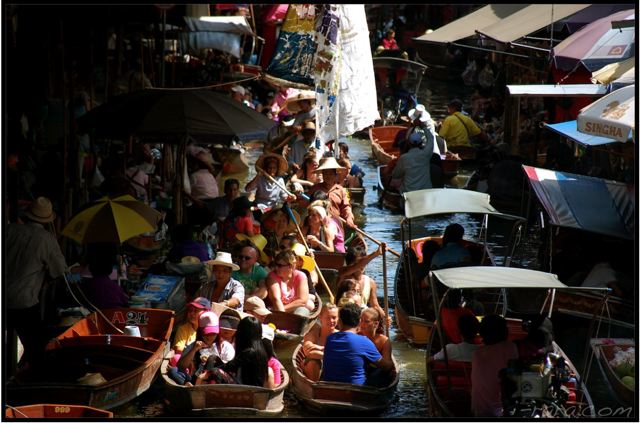 Perahu-perahu penjual yang saling berselisih membuat pemandangan menjadi lebih berwarna :D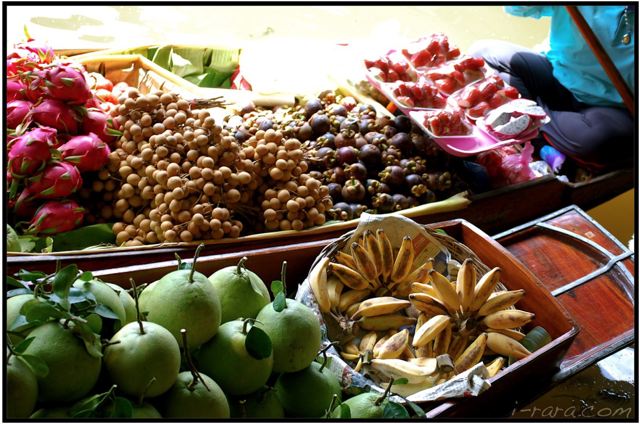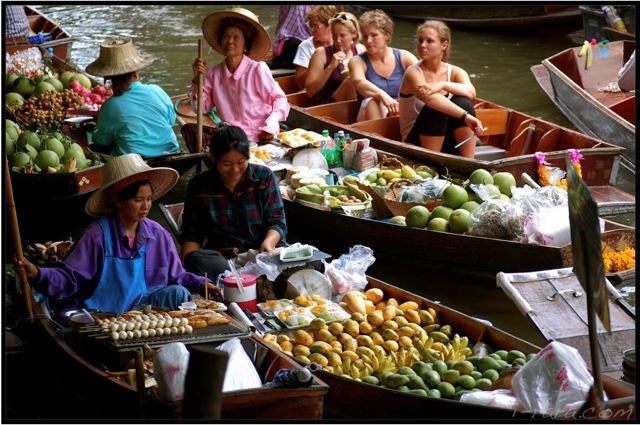 Golda sedang menikmati crepes ala Bangkok.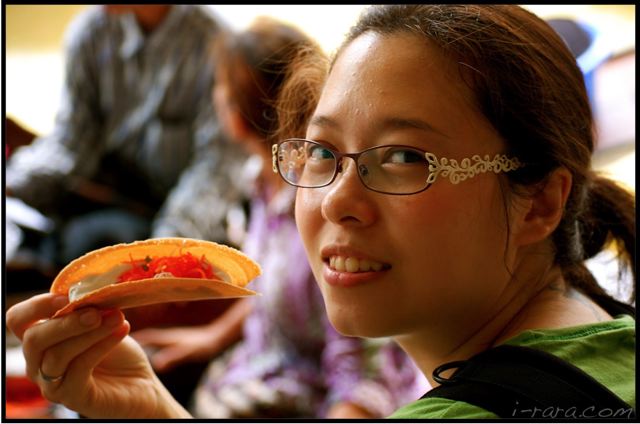 Crepes ala Bangkok dari dekat. Semuanya terbuat dari kelapa.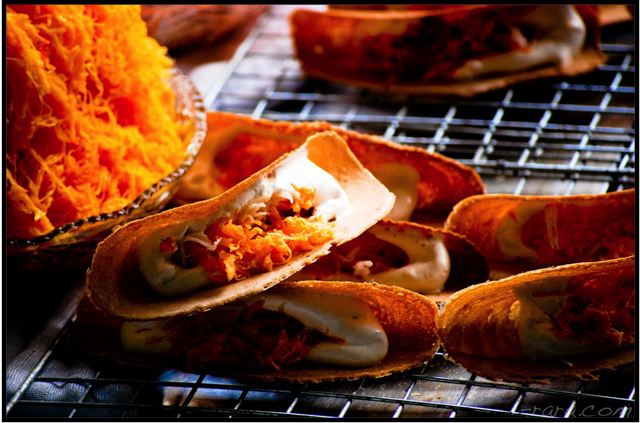 Makan siang. Rice noodle ala thailand, yang ditaburi oleh thai chili powder. Yum!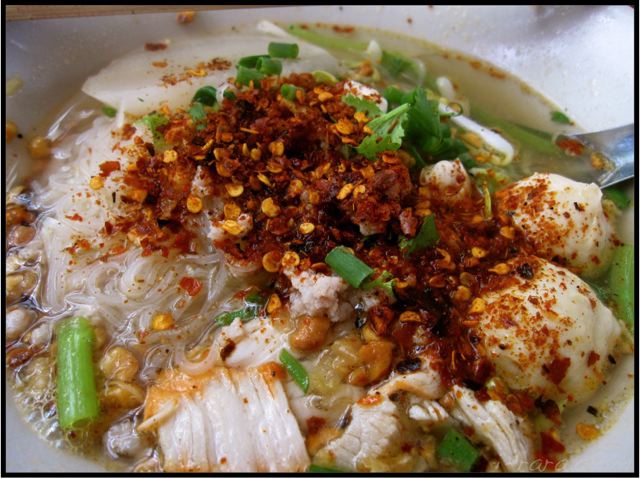 Usai berjalan-jalan menyusuri sungai, akhirnya kami menikmati makan siang di sana. Memesan rice noodle alias bihun kuah. Pilihan utk rice noodle-nya, mau pakai chicken atau pork. Harganya 20 Baht, lalu memesan minum es kelapa muda (yang pake batok), harganya 10 Baht. Total pengeluaran untuk makan siang adalah 30 Baht.
Setelah makan, balik ke tempat turun dari kapal tadi. Ternyata kita dinaikkan ke mobil van, dan diantar langsung ke hotel. Jam 1 siang, kami telah tiba di Khaosan Road. Di sini lah akhir dari perjalanan kami ke Damnoen Saduak Floating Market. Perjalanan yang sangat menyenangkan dan penuh dengan kesan.
to be continued…